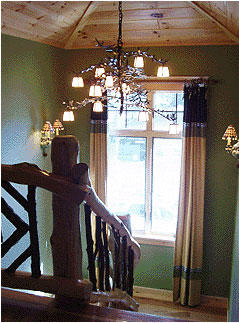 Interiors by Marcia Philipp has been providing interior design services to residential and commercial clients since 1980.  My professional experience spans more than 30 years and involves projects throughout New York and the Northeast as well as serving clients nationwide.
I had a wonderful time decorating a clients home in Inlet, New York.
I offer a complete source for fine furniture, fabrics, floor and wall coverings, window treatments and accessories.  I am well versed in all aspects of design, including new construction, historical preservation, renovation, remodeling and space planning.
For many of my clients, this may be their first time utilizing the services of a professional interior designer, so my focus is to guide you step-by-step through the complete process, from initial concepts, to design development and execution to actual "move-in."
My purpose as a designer is to act as translator for my residential and commercial clients, turning their ideas, visions and needs into a plan that responds to their needs and requirements. I achieve this through interviews and ongoing discussions. It is only through this education process that I can begin work towards our goal to provide creative, enduring design solutions for each of my individual clients.
The hallmark of any project I undertake is that I will always provide you with the assurance of a clearly organized, straight-forward methodology that will bring your project to completion on time and on budget, no matter how large or small the project may be.
http://blog.interiorsbymarciaphilipp.com/wp-content/uploads/2015/12/marcia-philipps-blog-logo.jpg
0
0
admin
http://blog.interiorsbymarciaphilipp.com/wp-content/uploads/2015/12/marcia-philipps-blog-logo.jpg
admin
2012-11-14 11:48:17
2013-01-29 12:02:46
Inspiration in Inlet
It's easy to redecorate your home, even when you're on a budget.  The trick is simple: Redecorate by rearranging. It's easy to feel like you have a whole new home.  If you like, I can help you to rearrange your furniture and accessories to give you a whole new look.
Identify the focal point of your room. Is it a piece of furniture? A fireplace? A grouping of plants or wall hangings? Windows count too! When you have identified your focus, you can do the following:
Change the ebb and flow. Introduce a taller plant, sculpture, or lamp stand into the focal group; this will add eye-catching appeal to the horizontal landscape. Avoid blocking a view, however, and stick with slender items, if possible.
Make it cozy. Gather up favorite quilts and throws. Roll them in bundles and tie them together with a scarf or ribbon. Pile them in an extra basket or make a free-flow group in a corner.
Bring Mother Earth indoors. Go shopping in your backyard.  Look for dried grasses, twigs, pine cones, and interesting objects to create a natural display. Place them on the coffee table or tie the twigs and grasses together and place them in a vase.
I would love to hear from you, so please feel free to comment and let's hear what you've done in your own home.
Marcia
http://blog.interiorsbymarciaphilipp.com/wp-content/uploads/2015/12/marcia-philipps-blog-logo.jpg
0
0
admin
http://blog.interiorsbymarciaphilipp.com/wp-content/uploads/2015/12/marcia-philipps-blog-logo.jpg
admin
2012-11-14 11:39:32
2013-02-01 15:43:53
Redecorate On a Budget