I frequently receive calls from new clients to help them combine two households.  Marrying at a later stage in your life can be a real challenge especially for an Interior Designer.  In the summer of 2005 I married for the first time in my late forties.  I was lucky though, the moving van pulled into my new husband's driveway and they loaded a grandfather clock, an antique Stickley bookcase and his television.
Ellen Griffin, a New York based Interior Designer married later in life as well and her husband was moving from a 400-square-foot bachelor pad with no furniture.  "The perfect husband for a decorator," she jokes.  My thoughts exactly!
My husband Rick, will tell you, it's an everyday adventure being married to me.  I replaced an antique table in a room located off, what I call, the heart of the house.  The room has a beautiful bay window with a view of the lake.  This room,  I have deemed my husband's man cave.  It has his favorite worn leather chair and ottoman and his television.  A quote by Mary Sarton states, "A house that does not have one worn, comfy chair in it is soulless."
Needing a place to store his paperwork and books,  I replaced the antique table with a piece from one of my companies, Somerset Bay.  It has a small drawer for pens and chargers and two doors for storage.  It made him very happy.
Ok…so here's the downfall to being married to an Interior Designer.  I was at a client's home and saw a glass plant stand against one of her kitchen walls.  I thought wow, wouldn't that piece from Somerset Bay look fantastic there!
Yes, you guessed it… The next day, I said to my husband, "Can you help me load your new table in my car?"  I got the "look" from him.  "Don't worry honey," I said, "I'll order you another one." The piece worked beautifully in my client's kitchen and she loved it.  A table that added storage for my husband's books and paperwork in the den also worked in my client's kitchen giving her additional storage and a place to place a lamp.
I've always felt that rooms should be welcoming spaces that delight the eye and put you at ease.  Whether they are a blend of neutrals or vibrant colors, minimalistic or organized clutter, you want rooms that invite you in revealing their beauty slowly.
The most refreshing spaces, whether a bright kitchen or a classic garden, soothe, surprise and delight.
Properly placed furniture leads you into a room without creating walls.   Properly placed, it should invite conversation.  A beautiful home that's loved and cared for immediately puts you in a good mood.
One of my favorite things to do is helping clients rearrange their furnishings.  I love visualizing where pieces could be moved to create this feeling of surprise and delight.  With my vision,  I see moving an extra table with two chairs away from the dining room table and chairs to a location in front of a window that's across the room and has a beautiful view of your garden.  The table now has its own space and in the winter on Sunday's you could enjoy your newspaper and coffee at the table.  Yes, we will have to move your baby grand piano but, I have a great spot for that too!
Delight your senses.  Have me come and take a look at your room.  I'll leave you with a quote by Samuel Johnson.  "To be happy at home is the ultimate result of all ambition."  I second that emotion.
http://blog.interiorsbymarciaphilipp.com/wp-content/uploads/2015/12/marcia-philipps-blog-logo.jpg
0
0
Marcia Philipp
http://blog.interiorsbymarciaphilipp.com/wp-content/uploads/2015/12/marcia-philipps-blog-logo.jpg
Marcia Philipp
2013-10-08 19:40:24
2013-10-16 21:18:37
DELIGHTING THE SENSES
Well it's been quite a busy summer – One fun "project" I worked on was a beer and baseball themed shower held at my home for my niece, Tracy.   I always love a challenge and this was a good one.
Coming up with new ideas for her theme of beer and baseball was the challenging part.  To enhance my senses, my husband and I took a day trip to the town that has every souvenir you can think of for baseball…..Cooperstown.  I had never been there and what a lovely place it was.  So amazing we have such beautiful towns so close to us.  We enjoyed a scenic lunch on the veranda of the Otesaga Resort Hotel.  If you've never been, it's worth a trip to have lunch and enjoy a glass of wine by the lake.
My husband, who's such a good sport, followed me around as I meandered in and out of shops.  In one shop,  I found a 500 piece jigsaw puzzle of the United States with all the baseball stadiums.  My mother-in-law, husband and brother-in-law, Len worked diligently putting the puzzle together before the shower as I was using it as part of my centerpiece.
Nestled behind a building and downstairs, we came upon the Chocolate STUDIO.  One of the owners, Heather made the most adorable chocolate half back, peanut butter filled baseball candies for my favors.  So very cute and so very delicious!!
As we were walking past a shop I wasn't going to stop in, the owner spoke to us as she sat outside with her dog.  I explained I was looking for things for my beer and baseball themed shower.  "Please go in she said, you might see something."  Well I'm glad I did. Most of their products are made in the State of New York.  I found an 8″ round baseball cutting board made in the Catskills from New York hardwood.  The artists laser engrave the distinctive baseball stitching and "Cooperstown" in a vintage baseball font.  It was a perfect raffle drawing prize.
So many creative people out there….
  I can't thank Katrin Naumann enough for her artistic talent.  She painted an entrance ticket booth for my front storm door.  On the backside, which faced into the house, she put; "Had a ball/Catch you later"  How fun is that!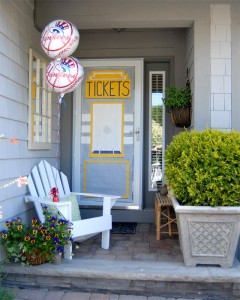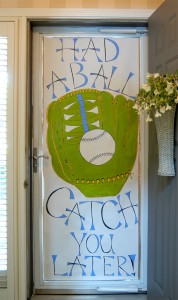 I love collaborating with the ever so talented, Nanette Haynor from Whistlestop Florist who created the flowers for me.  When we get together there's electric sparks as our creative juices flow. I just loved the mums formed into a baseball that I nestled inside a baseball glove.  The flowers in the pot for the centerpiece carried the bride-to-be's color theme.  Nanette used dried pincushion flower pods in the arrangement as we kept the round baseball theme going.  I bought Pottery Barns wooden caddy holder for part of my nieces shower gift.  Inside each cubby was a beer bottle filled with flowers.
I have so much fun with the decorating part of the event…..The dessert was predetermined after I found baseball cupcake liners and banners.  My sister, Barb, who is an excellent cook and baker made the wonderful assortment of cupcakes with decadant frostings.
I love surprises and what a great surprise it was…Grace, My friend Dina's daughter, came decked out in a Yankee uniform to do the traditional call out of "POPCORN, PEANUTS and of course, CRACKER JACKS…..
With all the rain we had I was hoping it would be a beautiful day so the guests would be able to gather for conversation and lunch on the deck.   As you can tell by the picture above and below it was a glorious day indeed.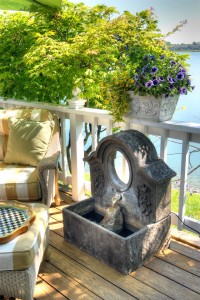 The marvelous photographs were taken by Jonathan Beach of Beach Photography.
Do you have an event coming up?  Make it extra special for the recipient by not only holding the event with food but also by setting the stage for the theme.  It enlightens the guests senses and really enhances the party.
Would you like me to help you with an event?  Give me a call…
http://blog.interiorsbymarciaphilipp.com/wp-content/uploads/2015/12/marcia-philipps-blog-logo.jpg
0
0
Marcia Philipp
http://blog.interiorsbymarciaphilipp.com/wp-content/uploads/2015/12/marcia-philipps-blog-logo.jpg
Marcia Philipp
2013-07-28 18:19:47
2013-08-09 10:28:38
Baseball and Beer Bridal Shower
When we moved into our condominium eight years ago, the hallway along the staircase was a real eyesore.  It was dark, long and narrow.  There was a French door that opened into the hallway from the vestibule and covered most of the sliding doors to the closet.  Every time we had guests it made it very awkward to access the closet doors.
I contacted my contractor and shortly thereafter he installed two 18″ French doors.  He reworked the door frame so it allowed us to open the doors into the vestibule rather than into the hallway.  What a relief to be able to get into the closet freely as guests are arriving.
On the other side of the vestibule there is another French door that opens into the kitchen.   It's nice having the ability to close off the vestibule.  By keeping the French door closed to the kitchen and leaving the small French doors open it leads the guests through them and down the hallway into the living space rather than into the  kitchen.
After we had been in our condo for about a year I added two more French doors to the opening of the the kitchen from the dining room area.  In doing so, it created a gracious formality to the look of the dining room.
I've always had an affection for Dutch doors.  Maybe it's because of the fond memories of the Dutch door that enhanced the conversation between Wilber and Mr. Ed on the television show, Mr. Ed.  Even producers of television shows used doors to appeal to their viewer.  Remember the six-paneled swinging door of the 50's that Lucy Ricardo chose to separate her kitchen from her Living Room?  Whatever happened to swinging doors?
Recently I worked on a contemporary remodeling project of a clients kitchen.  I had seen these wonderful glass doors in my Interior Design Magazine.  After investigating them, my client fell madly in love with them.  We installed them in her kitchen down a very short hallway on three door openings;  One door straight ahead (half bath), two doors on the right (washer, dryer bump out), and directly across from the washer/dryer we installed two doors (on the closet).  The impact they made was astounding.  What could have been a very dead area demanded attention and added light and reflection.  Even when the doors are closed they open up the space.
At a client's home in the historical section of Syracuse, I couldn't help but notice the doors leading to their music room.  The doors were a beautiful combination of lead crystal panes on cherry, but unusual because they were pocket doors.  There were two doors split in the middle.  One went to the left and one to the right. Pocket doors are great for areas where you don't have the space for the door to open.
The doors used in the market today have been redefined from their style to their hardware.  Look around your home.  Is there someplace that you could add a door or two?
I'll leave you with a wonderful quote…
"Happiness often sneaks in through a door you didn't know you left open"  John Barrymore
http://blog.interiorsbymarciaphilipp.com/wp-content/uploads/2015/12/marcia-philipps-blog-logo.jpg
0
0
Marcia Philipp
http://blog.interiorsbymarciaphilipp.com/wp-content/uploads/2015/12/marcia-philipps-blog-logo.jpg
Marcia Philipp
2013-06-16 14:01:28
2013-06-16 14:01:28
Doors/Gracious Formality