"Why I Wake Early" by Mary Oliver, is a book of poems a dear friend of mine gave me many years ago. She knew I loved the early mornings. This summer, rising as the sun was barely coming up over the Green Lakes hillside, I would make my coffee and head out into my garden to water my plants.  A twice daily chore this past summer that was a reminder of how precious rain is.  The early awakening of wildlife is my love…and the shenanigans were all so present this year.  I happened to glance out of my kitchen window one morning and witnessed two baby chipmunks emerging from their home in the ground among my garden flowers.  They were very apprehensive as they took in their new surroundings.  Their eyes blinking from the now bright sunlight upon them. This year, as in the first year I had my pond installed, there was a frog that "grew up" in my garden.  He went from tiny to medium sized in no time. Ever present as I worked in my garden daily, he was there with me on his various perches in and out of the pond. He loved one rather large rock where numerous flowers cascaded over the rock providing the frog with his daily intake of bees foraging on the flowers pollen.  Sometimes jumping up to grab an insect flying by and landing on the ground with a thud and no insect…I swear he'd look up at me saying, "I was practicing!"
My husband and I traveled to Chatham, MA the end of September for my birthday.  A wonderful time of the year to travel to the Cape as the crowds have all gone, leaving behind a peaceful sanctuary of fishing boats, empty beaches and time standing still.  We stayed at the Chatham Bars Inn a delightful place recommended to me by a client. Being that it was a slower time of the year, we were graciously upgraded to a suite for my birthday. Arriving back from a golf outing or a walk along the wildlife refuge shore I would flip on the gas fireplace while I worked on emails and phone calls. I sat at a small table next to a bay window that faced the ocean off in the distance.  When we first arrived, we ventured out for a walk. Heading towards the beach, I heard what I thought were dogs howling.  As we approached the beach, there were hundreds of seals on a small sandbar near shore.  Some playfully swimming and some bathing in the sunlight. A wonderful sight to see.
Except for the color, the staircase runner to our room was the exact carpet I installed on my staircase to my office last December.  It is very durable and very forgiving in a high traffic area. But so beautiful!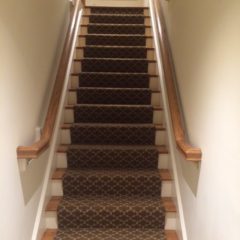 So many interesting projects this past summer. One I completed this summer was a beautiful "cape" home that longed to be on a beach somewhere. Fabrics of neutral canvas, soft blues mimicking the oceans hues and furniture so casual it begged to have sand upon its seats.  As the furniture was being delivered, I was "staging" the new coffee table to send a picture to my client so she could see it. Her Brittany Spaniel, Noodle, decided he wanted to be in the picture and proceeded to jump up on the sofa where he struck a most stately pose…
Displayed below are the five stain colors we were contemplating for the hardwood floors. We selected the second from the left as it was just dark enough to contrast against the light feel of the home.
Soon to be completed is the Industrial Style home I mentioned in my last blog.  It was a project so full of new and creative ideas it made my heart sing. Acid washed corrugated metal walls in the mudroom; the builder, Don Petrocci, informs me they actually use toilet bowl cleaner with acid in it to create the look, instead of cabinets above in the kitchen, we did free floating black walnut shelves on the walls; creatively made and installed by Cazenovia Cutblock, a metal railing with squares in the loft balcony, wonderful paint colors of navy, brandywine and shades of a cozy foggy day.  I am planning on photographing the home in the spring.  I'll keep you informed.
I was recently informed by Houzz.com that a photograph of a kitchen I did had reached 1000 saved hits on it.  I now have a banner button on my site stating that. If you haven't already, please visit my site on Houzz.com to view the many wonderful photographs of homes I've decorated.
As always, I either start or end my blogs with pictures of my photogenic Abyssinian's.  While spending a rare full day in my office cleaning out files, organizing and doing paperwork my Aby, Remi, never left my side.  He desperately needed a nap but, he was afraid he might miss something….Finally he got up on the sofa and curled up in a little ball.  I turned around to look at him and as you can see by the picture he was not going to let me out of his sight no matter what!
Here's to a wonderful fall…..Enjoy the beauty of the colors that nature blends so beautifully together. It's a time of inspiration, a time of coming indoors, of gathering around the dinner table and nights by the fire. Let the beauty inspire you to define a new space that's not used, paint a new inspiring color in a room or just redecorate by rearranging.  I'd love to hear from you.  Marcia
http://blog.interiorsbymarciaphilipp.com/wp-content/uploads/2015/12/marcia-philipps-blog-logo.jpg
0
0
Marcia Philipp
http://blog.interiorsbymarciaphilipp.com/wp-content/uploads/2015/12/marcia-philipps-blog-logo.jpg
Marcia Philipp
2016-10-31 20:22:59
2016-11-02 18:10:29
"Why I Wake Early"