It's amazing to me that this little skinny, big eared, long legged, big foot kitten could bring so much joy to me. When I brought him home at 13 weeks, my husband said, "He looks like the "reindeer" dog in the Grinch Stole Christmas. And so, the name Dasher "Dash" was adopted. As you can see in the photograph below, he is trying very hard at moving into first place as the most photogenic Abyssinian I've had. He's already stolen the hearts of my fabric reps. He's sitting on top of the Kravet Fabric Representatives new fabric samples he was showing me.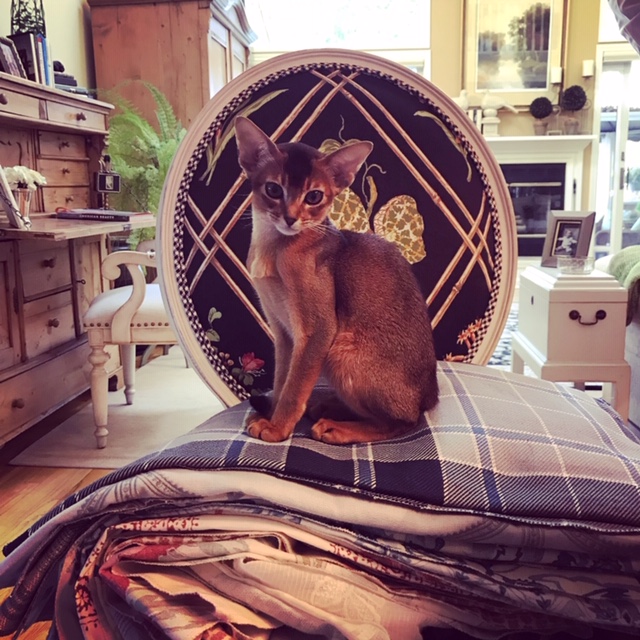 I created a tree for the Manlius Historical Societies Miniature Tree Festival. I started working on the tree at home and Dasher decided if he stood really still I might not notice he was playing with the flower I had just glued on.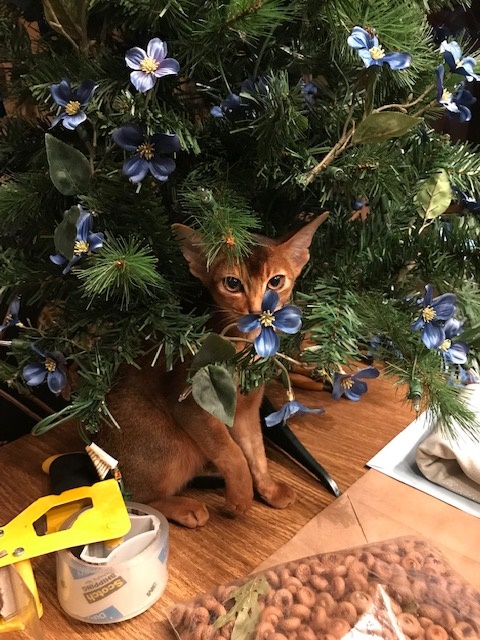 I hosted my Garden Club at the Cavalry Club where I worked on and completed the tree giving the members tips along the way to creating a unique and interesting holiday tree. My theme this year was blue and white in keeping with the trend of home design colors.
Our 8 year old Abyssinian Remi, quickly let Dasher know who was boss with a growl and a hiss. But as you can see in the photo below, we've definitely made some progress towards being pals.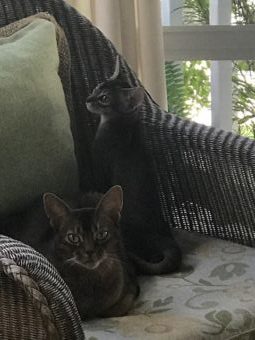 One of my personal color favorites is the vibrancy of a brilliant lime green. I always seem to find it around me or it seems to always find me. I'm not sure! A friend of mine was leaving my home one day and a vivid green frog hopped out of the garden. She looked up at me and exclaimed, "Even the frogs match your decor!" The frog, who was in my garden and pond all summer turned around to look at me and I swear he give me a wink. "Perfect timing," I said to him winking back.
My garden hydrangea turned a beautiful green this year for the first time. Paired with leaves from one of my hosta plants, I made a beautiful arrangement for a pre-wedding party my sister had for her stepson and his fiance.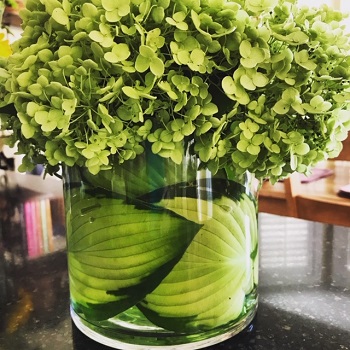 We replaced all our fence post knobs this summer as they were rotting. I found wonderful bird post knobs and put two of them flanking the deck steps.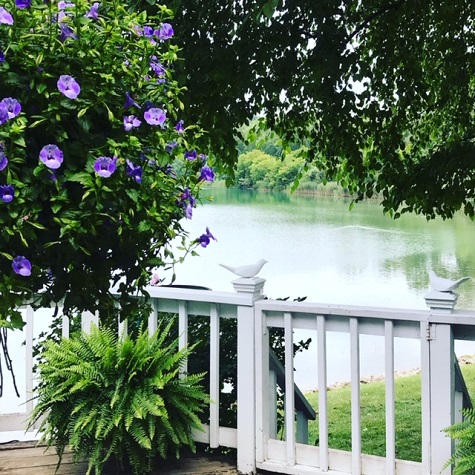 Although I've tried in the past and was unsuccessful, this past summer, I finally attracted the Baltimore Orioles to a feeder filled with grape jelly and an orange. The males are a beautiful shade of orange and black while the females are less striking in appearance, with yellowish-orange and dark gray or brown plumage. They frequented the feeder often and would chatter away before flying off when I infringed upon their space while working in my garden. They are a shy bird so getting a fairly decent picture of the male was a lengthy process!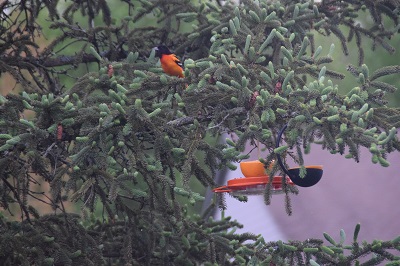 While working on my blog, I was sitting outside enjoying the beautiful view of the ocean in Nantucket. I hadn't been to Nantucket for many years and felt it calling to me to celebrate my 60th birthday. As I walked along the deserted beach early one morning, I couldn't help but look back over the years that have gone by so quickly. I came upon a saying written on an old piece of driftwood in one of the village shops that I loved; "Live as though someone left the gate open." I envisioned cattle/horses/dogs behind fences and all of a sudden the gate springs open. Running through the open gate they stop not knowing what to do at first then bursting into a run not sure which way to go but knowing they'll find their way now that the burden of the gate being closed has been lifted. I, too, will live this New Year that is upon us as if someone has opened the gate. Hope you do too.
There was a Lillie Pulitzer shop in town and I tip my hat to whoever dressed the window box to coordinate with the window displays.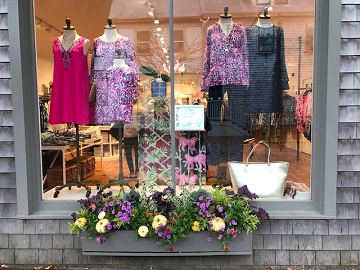 We had beautiful weather when we were there and rode our bikes to the Sankaty Head Light which is a lighthouse located in the village of Siasconset. It is on the easternmost point of the island. It was built in 1850, was automated in 1965, and is still in operation.
It was what I call a browned out fall as many of the trees donned rich shades of browns, rust and deep gold's. A beautiful color palette for a cabin in the woods, a beautiful brick colonial home set in the Blue Ridge Mountains or a Log cabin set on a lake in the Adirondacks. Brown furniture is making a comeback this year. The picture I took below would make a wonderful painting over a fireplace in one of those homes accented by brown furniture.
I lit our first fire in November as the temperatures dropped. I had to rearrange my living room as Dasher was being a kitten racing around the room. He jumped on the back of a chair that was in front of the large fern by the sliding door then jumped into the middle of the fern and up into the transom window. Looking at using the tree to come down I decided it would be best to move the chair from in front of the fern. My husband came home from work and said, "Wow, I like the room rearranged this way." Things seem to work out….don't they?
Remember, you should live with what you love, whatever is enduring and timeless to you. You should drive down your street, pull in your garage and know you're home. I can help you get there….
Have a happy and healthy 2019. Please feel free to share my blog with your friends and family.
Marcia
http://blog.interiorsbymarciaphilipp.com/wp-content/uploads/2015/12/marcia-philipps-blog-logo.jpg
0
0
Marcia Philipp
http://blog.interiorsbymarciaphilipp.com/wp-content/uploads/2015/12/marcia-philipps-blog-logo.jpg
Marcia Philipp
2019-01-08 12:55:27
2019-07-06 11:25:43
Through the Seasons