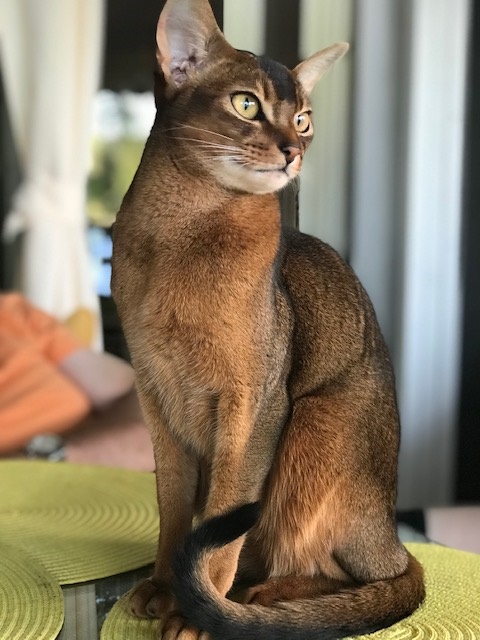 If you've been following my blog, you know we had to put our Abyssinian cat, Sami down. Months later, Dasher came into our lives. As you can see from the picture above, he has become quite the handsome boy. He's so full of energy; more so than any other Aby I've owned. He seems to want that continued feeling of comfort he felt with his mother; even at one year old. He holds his blanket in his mouth and "kneads" it. He's very intent on it and nothing stops him once he starts. Kneading can actually be a sign of happiness or contentment. My husband says the pizza shops could hire him to knead their dough!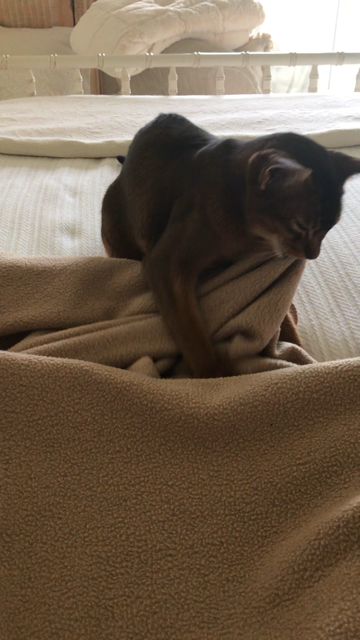 I love exterior doors that speak to you as you approach. It really can make a difference inside and out. Old-fashioned farm-style Dutch doors are making a comeback for interiors and exteriors. Bob Vila, best known as the television show host on This Old House, explains that the Dutch door originated in Holland in the 17th century. "Their purpose was purely functional." "Built with a bottom half and a top half that opened separately, the bottom was kept closed to prevent rodents and farm animals from wandering into the house, while the top was opened to let in light and fresh air." I follow studiomcgee on Instagram and the following pictures of entrances are from their postings. So beautiful!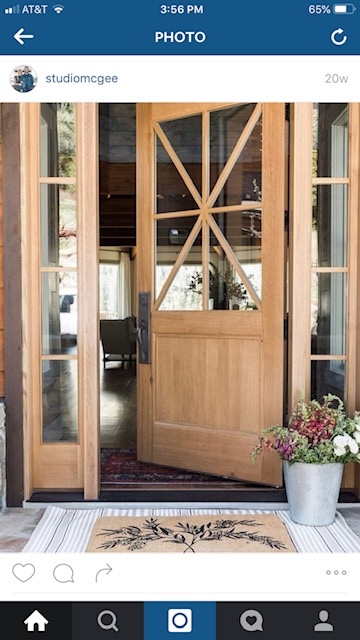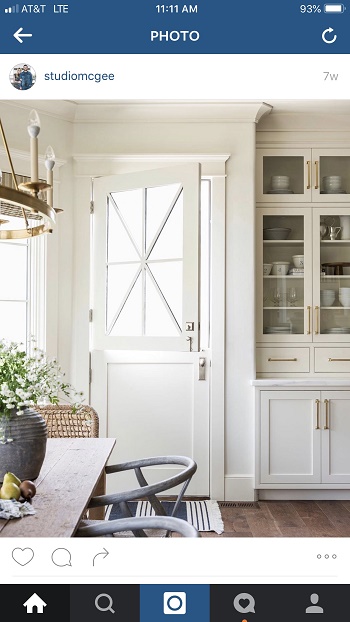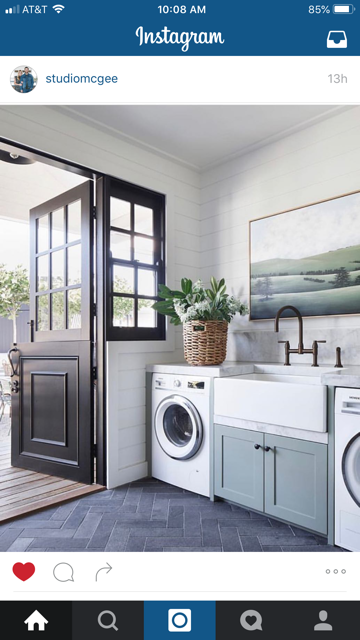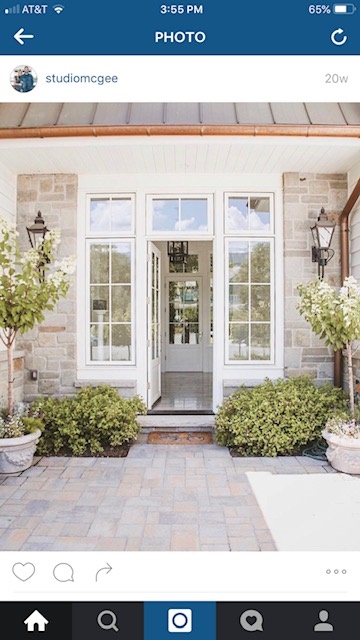 I recently updated our entrance as much as I could since living in a townhome has its restrictions (my husband thinks that's a good thing!) I added shiplap to the exterior ceiling and my interior foyer ceiling, replaced an outdated fixture, painted the front door black and replaced one French door with two smaller French doors. It visually brought elegance and character to not only the foyer but the kitchen. I bought a wonderful reclaimed wood cabinet for my kitchen. I had come upon it in a showroom at Furniture and Accessory Market in High Point, NC. It has given me so much more storage and a place to display my beautiful serving pieces that were hidden away. The glass design on the front mimics the design on my glass front kitchen cabinet. The cabinet came with a painted blue/gray interior. I had my painter repaint it to match my kitchen wall color; Benjamin Moore Adams Gold HC-18.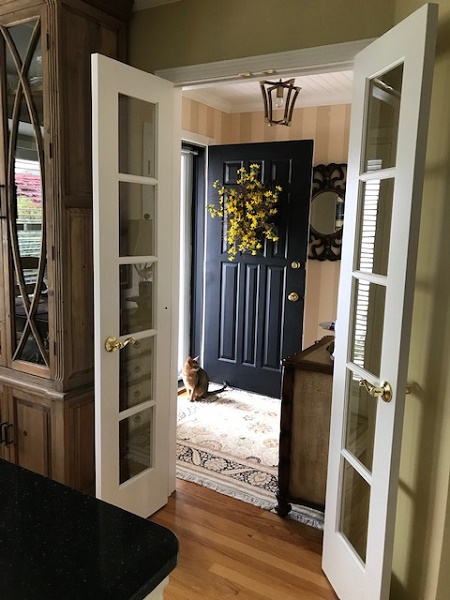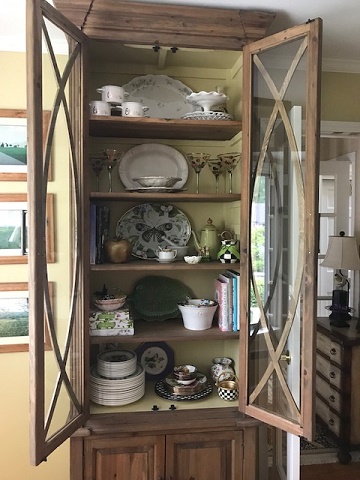 I'm having deja vu. I wrote a blog in June of 2017 about all the rain. I mentioned all the good the rain brought to my life. One was how beautiful my garden was. And so, here we are again. My Kousa dogwood tree has never had so many flowers on it. It obviously thrives on cooler wet weather.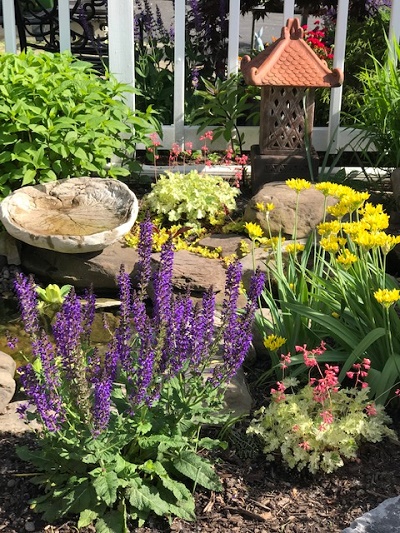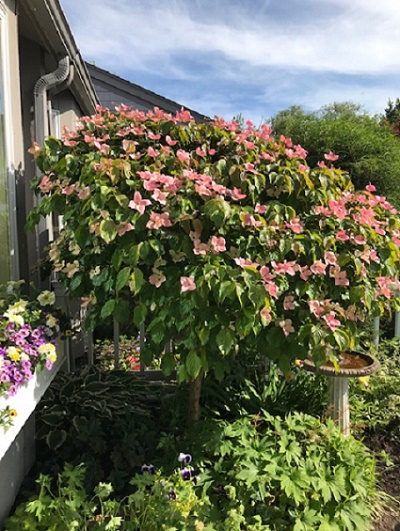 Recently my husband and I were playing golf at Green Lakes where I noticed a beautiful tulip magnolia tree in full bloom. What a beautiful tree. The flowers stand upright in what seems like endless perfection. Obviously, the tree has loved all the rain as well.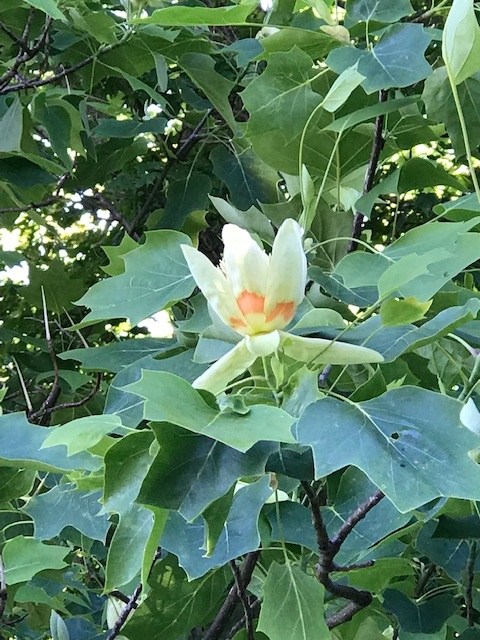 One last thing that I wanted to share with you was that I always felt my friend, Barb, would be living here and in my life forever. I'm an upbeat person but boy it's hard not dwelling on the fact that most likely I won't ever see her again. Her daughter, Debbie, moved her out to California to be with her so she could take care of her. At 91, she still radiates love and caring. I owe Barb a lot and I told her so in a letter I wrote to her recently. She taught me the meaning of spirituality. "It's not necessarily religion she said, "It's taking notice of the cloud formations, the birds, and appreciating everything around you." "Don't just live, live and be aware every minute." It was then that I stopped playing music when I walked. This was brought up again recently in a speech my 95 year old friend, Dr. Paul gave at the Retirement Home in Fayetteville. In the last part of his speech, he listed the top ten things we should all do."Living in the quiet" was among one of the top ones.
At a recent gathering to say our goodbyes, I hugged Barb for what would most likely be the last time. Tears began to roll down my cheeks and continued on the drive home. I met Barb when I was trying to quit smoking and needed additional income. I advertised in our community newsletter for pet sitting. Barb contacted me which was over 30 years ago now to watch her Shepherd mix, Sheba. She was "put" into my life when I needed her the most. She loved gardening and decorating and so a friendship cultivated. I learned a lot about gardening and Barb loved sitting on my deck amongst my many potted flowers. "A slice of heaven," she would say. I loved helping her decorate her home and every time she would come home she would say, "My home wraps its arms around me." It's so hard to imagine her leaving her home for the last time. She only stopped in her townhouse briefly when she and her daughter came back to put the townhouse on the market; "It hurt too much to stay any longer," she said. When mentioning the sadness I felt to my yoga instructor, Katrin she said, "Just look at it as a transformation of a friendship." Many of us have felt that transformation. I realized I'd felt it before when I was 11 years old. I have the image embedded in my memory block of my family driving down our street in Buffalo, New York as we headed to our new home in Manlius, New York. My then best friend was standing in the middle of the street waving goodbye. As we got farther away, she picked up her gait and began shouting and running down the street after us. Tears flowed from my eyes as they have now. Friends come and go and I firmly believe each and everyone is put in our lives for a reason; some for a day and some for a lifetime. Life goes too fast….Enjoy each and every day and all those who cross paths with us.
http://blog.interiorsbymarciaphilipp.com/wp-content/uploads/2015/12/marcia-philipps-blog-logo.jpg
0
0
Marcia Philipp
http://blog.interiorsbymarciaphilipp.com/wp-content/uploads/2015/12/marcia-philipps-blog-logo.jpg
Marcia Philipp
2019-07-06 16:23:50
2019-07-07 13:17:23
Too Fast and More
It's amazing to me that this little skinny, big eared, long legged, big foot kitten could bring so much joy to me. When I brought him home at 13 weeks, my husband said, "He looks like the "reindeer" dog in the Grinch Stole Christmas. And so, the name Dasher "Dash" was adopted. As you can see in the photograph below, he is trying very hard at moving into first place as the most photogenic Abyssinian I've had. He's already stolen the hearts of my fabric reps. He's sitting on top of the Kravet Fabric Representatives new fabric samples he was showing me.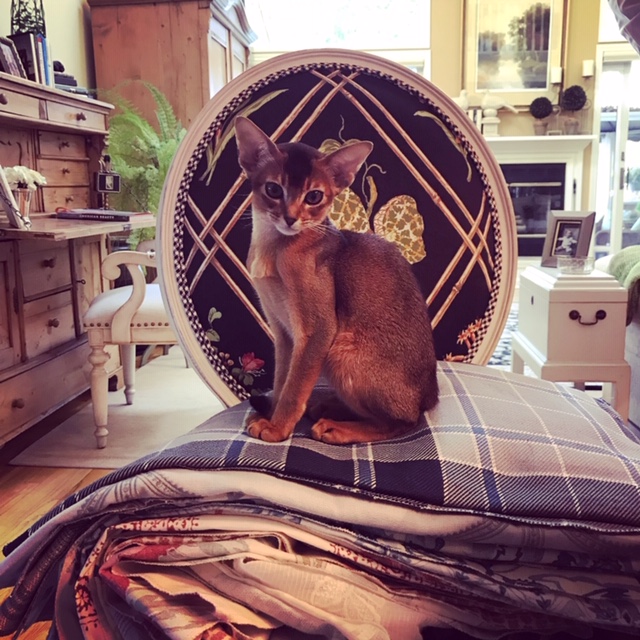 I created a tree for the Manlius Historical Societies Miniature Tree Festival. I started working on the tree at home and Dasher decided if he stood really still I might not notice he was playing with the flower I had just glued on.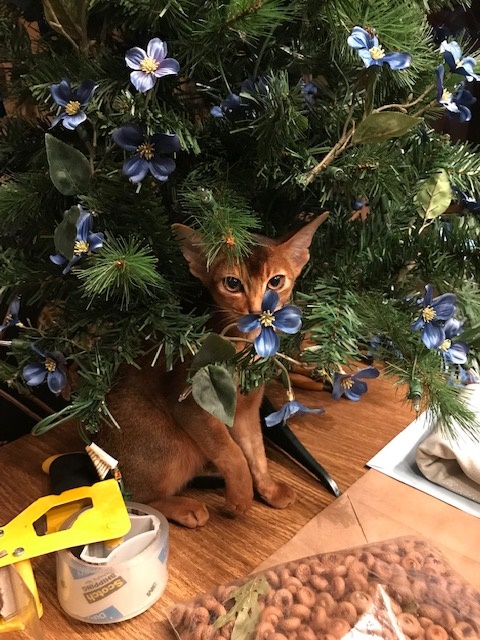 I hosted my Garden Club at the Cavalry Club where I worked on and completed the tree giving the members tips along the way to creating a unique and interesting holiday tree. My theme this year was blue and white in keeping with the trend of home design colors.
Our 8 year old Abyssinian Remi, quickly let Dasher know who was boss with a growl and a hiss. But as you can see in the photo below, we've definitely made some progress towards being pals.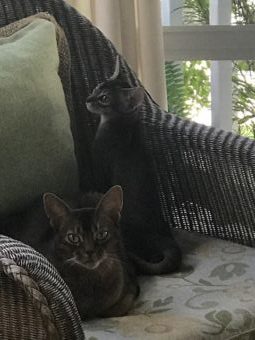 One of my personal color favorites is the vibrancy of a brilliant lime green. I always seem to find it around me or it seems to always find me. I'm not sure! A friend of mine was leaving my home one day and a vivid green frog hopped out of the garden. She looked up at me and exclaimed, "Even the frogs match your decor!" The frog, who was in my garden and pond all summer turned around to look at me and I swear he give me a wink. "Perfect timing," I said to him winking back.
My garden hydrangea turned a beautiful green this year for the first time. Paired with leaves from one of my hosta plants, I made a beautiful arrangement for a pre-wedding party my sister had for her stepson and his fiance.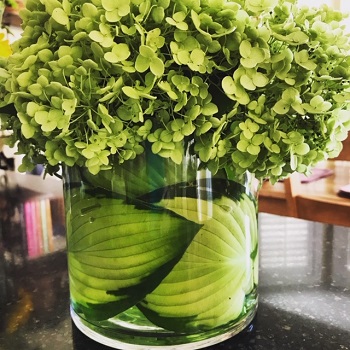 We replaced all our fence post knobs this summer as they were rotting. I found wonderful bird post knobs and put two of them flanking the deck steps.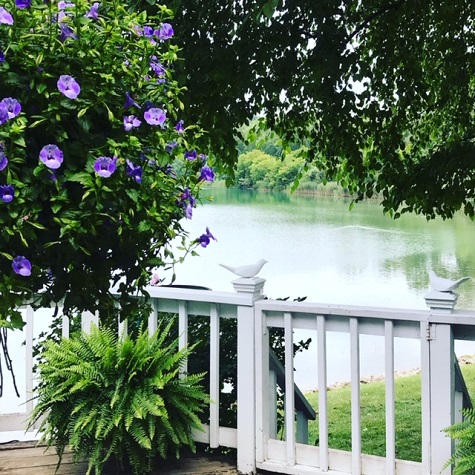 Although I've tried in the past and was unsuccessful, this past summer, I finally attracted the Baltimore Orioles to a feeder filled with grape jelly and an orange. The males are a beautiful shade of orange and black while the females are less striking in appearance, with yellowish-orange and dark gray or brown plumage. They frequented the feeder often and would chatter away before flying off when I infringed upon their space while working in my garden. They are a shy bird so getting a fairly decent picture of the male was a lengthy process!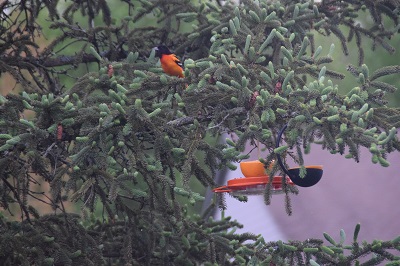 While working on my blog, I was sitting outside enjoying the beautiful view of the ocean in Nantucket. I hadn't been to Nantucket for many years and felt it calling to me to celebrate my 60th birthday. As I walked along the deserted beach early one morning, I couldn't help but look back over the years that have gone by so quickly. I came upon a saying written on an old piece of driftwood in one of the village shops that I loved; "Live as though someone left the gate open." I envisioned cattle/horses/dogs behind fences and all of a sudden the gate springs open. Running through the open gate they stop not knowing what to do at first then bursting into a run not sure which way to go but knowing they'll find their way now that the burden of the gate being closed has been lifted. I, too, will live this New Year that is upon us as if someone has opened the gate. Hope you do too.
There was a Lillie Pulitzer shop in town and I tip my hat to whoever dressed the window box to coordinate with the window displays.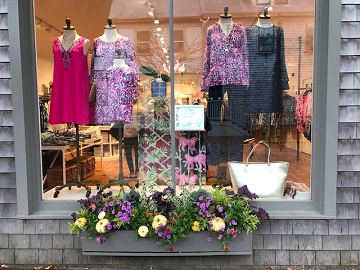 We had beautiful weather when we were there and rode our bikes to the Sankaty Head Light which is a lighthouse located in the village of Siasconset. It is on the easternmost point of the island. It was built in 1850, was automated in 1965, and is still in operation.
It was what I call a browned out fall as many of the trees donned rich shades of browns, rust and deep gold's. A beautiful color palette for a cabin in the woods, a beautiful brick colonial home set in the Blue Ridge Mountains or a Log cabin set on a lake in the Adirondacks. Brown furniture is making a comeback this year. The picture I took below would make a wonderful painting over a fireplace in one of those homes accented by brown furniture.
I lit our first fire in November as the temperatures dropped. I had to rearrange my living room as Dasher was being a kitten racing around the room. He jumped on the back of a chair that was in front of the large fern by the sliding door then jumped into the middle of the fern and up into the transom window. Looking at using the tree to come down I decided it would be best to move the chair from in front of the fern. My husband came home from work and said, "Wow, I like the room rearranged this way." Things seem to work out….don't they?
Remember, you should live with what you love, whatever is enduring and timeless to you. You should drive down your street, pull in your garage and know you're home. I can help you get there….
Have a happy and healthy 2019. Please feel free to share my blog with your friends and family.
Marcia
http://blog.interiorsbymarciaphilipp.com/wp-content/uploads/2015/12/marcia-philipps-blog-logo.jpg
0
0
Marcia Philipp
http://blog.interiorsbymarciaphilipp.com/wp-content/uploads/2015/12/marcia-philipps-blog-logo.jpg
Marcia Philipp
2019-01-08 12:55:27
2019-07-06 11:25:43
Through the Seasons
Sami was my third Abyssinian and one that was the most challenging but, one that was so devoted to me and me to her. I find myself putting extra food on the plate for her when I'm feeding my other Aby, Remi, heading to warm her blanket before I go to bed for her to cuddle up in at night and looking for my girl in the morning as she would always come up next to me in bed before I got up. It is sad that now Remi gets up in bed while I'm reading at night and slowly goes over to Sam's blanket with his head down smelling and looking.  He's still looking for her even though it's been over a week and seems to cry out at unusual times as if calling and looking for her. I am sure we will all adapt to our loss, but it sure is hard as a lot of you know and understand. Rest in peace my beautiful girl.
http://blog.interiorsbymarciaphilipp.com/wp-content/uploads/2015/12/marcia-philipps-blog-logo.jpg
0
0
Marcia Philipp
http://blog.interiorsbymarciaphilipp.com/wp-content/uploads/2015/12/marcia-philipps-blog-logo.jpg
Marcia Philipp
2018-07-28 12:18:55
2018-07-28 12:18:55
IN MEMORY OF SAMI