I love any excuse to entertain and my husband's 60th birthday was no exception.   I planned a full day of celebration for Rick, who hates surprises, without ever spilling the beans.  Hard to do as I always love sharing my excitement with him.
As I gathered my thoughts for a theme.  Rick's love for golf made my choice an easy one!  I planned a surprise golf outing with Rick's college buddies.  Checking his phone contacts when he wasn't looking, I found all their emails and phone numbers.  The fun began……..
I called upon my "old faithful's" and some new ones to add to my creativity.  I started with an idea of a goldfish in a glass vase with a golf ball in the bottom and ended up with the most unique and creative fish tank which included a miniature golf cart, 18th hole flag, imaginary wind blowing a tree, fish, sand trap and a water hazard.  Stopping into a new fish store that opened up called Fish FINatics, I had the pleasure of speaking with one of the owners, Tom O'Conner.  He was intriqued with my idea and said, "let me think on it."  You could see his creative wheels turning.  Two months later,  Voila!!  I had the most unique fish tank to use as my centerpiece on the buffet table.  There was even a live river lobster in the tank.  At one point, he crawled into the golf cart to check it out.  By the time I grabbed my camera, he had moved on to inspect the wind blown artificial tree.
As I've mentioned before, I love meeting with Nanette Haynor at Whistlestop Florist.  The final outcome is always more than expected.  I gave her an antique bread baker which she filled with wheat grass.  I made flags and added one of the adorable "flower" golf balls she made me.  Along with the antique bread baker, Nanette grew wheat grass in my clay flower pot containers.  Placing them around added whimsy to the occasion.  The amazing flower arrangement she made for the back deck table filled with sunflowers, mums and round accents played upon the roundness of the golf ball.
The fact that my husband's party was a surprise obviously made it difficult to do any decorating to the house in advance.  So, when we left in the early morning to go play golf, so he thought, he was so surprised see his friend, Len, pull into the parking lot.  Not dawning on him yet he said, "what the heck is Len doing here?"  As the rest of his friends pulled in I looked at him and said, "surprise!" I left him to play 18 holes and drove home to begin my transformation of the house.
I ordered personalized golf tees that said, Ricks 60th birthday and placed them in bags with shredded green paper for the party favors.  Gathered them into a tray for friends to grab a bag or two as they left.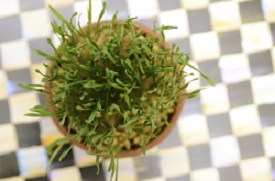 Thinking the surprise was over when his friend, Len, dropped him off back at the house, he came in with a big smile on his face until he saw the transformation.  "What's going on, he said, why is the dining room chair over here?"  My turn….With a big smile on MY face I said, "surprise again!"  "Dinner here tonight with all your friends to celebrate."  I love to cook as you know from my previous blogs but, since it was a surprise,  I enlisted Karen's Catering who arrived with fresh roasted turkey and pork for sandwiches along with wonderful salads.
For dessert the wonderful to look at and taste was made by Connie Decker. I added another "flower" golf ball and a flag to the top of the cake.   I also offered powdered sugar donut holes in a bucket.
Couldn't have asked for a more beautiful day.  The sun was out all day and there was a gentle breeze blowing.  What better way to spend a beautiful summer day than with good friends laughing and sharing stories.  I can't forget to thank Lydia from Johnson Camera for taking these beautiful pictures.  Nothing like professional photographs to bring the party back to life!
http://blog.interiorsbymarciaphilipp.com/wp-content/uploads/2015/12/marcia-philipps-blog-logo.jpg
0
0
Marcia Philipp
http://blog.interiorsbymarciaphilipp.com/wp-content/uploads/2015/12/marcia-philipps-blog-logo.jpg
Marcia Philipp
2014-10-23 10:35:37
2014-10-29 07:39:55
A Chance for Celebration