Well it's been quite a busy summer – One fun "project" I worked on was a beer and baseball themed shower held at my home for my niece, Tracy.   I always love a challenge and this was a good one.
Coming up with new ideas for her theme of beer and baseball was the challenging part.  To enhance my senses, my husband and I took a day trip to the town that has every souvenir you can think of for baseball…..Cooperstown.  I had never been there and what a lovely place it was.  So amazing we have such beautiful towns so close to us.  We enjoyed a scenic lunch on the veranda of the Otesaga Resort Hotel.  If you've never been, it's worth a trip to have lunch and enjoy a glass of wine by the lake.
My husband, who's such a good sport, followed me around as I meandered in and out of shops.  In one shop,  I found a 500 piece jigsaw puzzle of the United States with all the baseball stadiums.  My mother-in-law, husband and brother-in-law, Len worked diligently putting the puzzle together before the shower as I was using it as part of my centerpiece.
Nestled behind a building and downstairs, we came upon the Chocolate STUDIO.  One of the owners, Heather made the most adorable chocolate half back, peanut butter filled baseball candies for my favors.  So very cute and so very delicious!!
As we were walking past a shop I wasn't going to stop in, the owner spoke to us as she sat outside with her dog.  I explained I was looking for things for my beer and baseball themed shower.  "Please go in she said, you might see something."  Well I'm glad I did. Most of their products are made in the State of New York.  I found an 8″ round baseball cutting board made in the Catskills from New York hardwood.  The artists laser engrave the distinctive baseball stitching and "Cooperstown" in a vintage baseball font.  It was a perfect raffle drawing prize.
So many creative people out there….
  I can't thank Katrin Naumann enough for her artistic talent.  She painted an entrance ticket booth for my front storm door.  On the backside, which faced into the house, she put; "Had a ball/Catch you later"  How fun is that!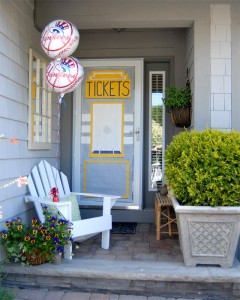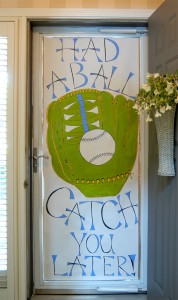 I love collaborating with the ever so talented, Nanette Haynor from Whistlestop Florist who created the flowers for me.  When we get together there's electric sparks as our creative juices flow. I just loved the mums formed into a baseball that I nestled inside a baseball glove.  The flowers in the pot for the centerpiece carried the bride-to-be's color theme.  Nanette used dried pincushion flower pods in the arrangement as we kept the round baseball theme going.  I bought Pottery Barns wooden caddy holder for part of my nieces shower gift.  Inside each cubby was a beer bottle filled with flowers.
I have so much fun with the decorating part of the event…..The dessert was predetermined after I found baseball cupcake liners and banners.  My sister, Barb, who is an excellent cook and baker made the wonderful assortment of cupcakes with decadant frostings.
I love surprises and what a great surprise it was…Grace, My friend Dina's daughter, came decked out in a Yankee uniform to do the traditional call out of "POPCORN, PEANUTS and of course, CRACKER JACKS…..
With all the rain we had I was hoping it would be a beautiful day so the guests would be able to gather for conversation and lunch on the deck.   As you can tell by the picture above and below it was a glorious day indeed.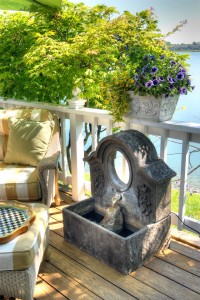 The marvelous photographs were taken by Jonathan Beach of Beach Photography.
Do you have an event coming up?  Make it extra special for the recipient by not only holding the event with food but also by setting the stage for the theme.  It enlightens the guests senses and really enhances the party.
Would you like me to help you with an event?  Give me a call…
http://blog.interiorsbymarciaphilipp.com/wp-content/uploads/2015/12/marcia-philipps-blog-logo.jpg
0
0
Marcia Philipp
http://blog.interiorsbymarciaphilipp.com/wp-content/uploads/2015/12/marcia-philipps-blog-logo.jpg
Marcia Philipp
2013-07-28 18:19:47
2013-08-09 10:28:38
Baseball and Beer Bridal Shower