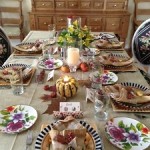 I hope everyone had a wonderful Thanksgiving!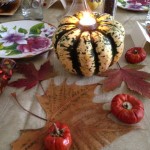 My favorite part of the holidays is the decorating and entertaining.  Because I love to entertain, I start the decorating early.  In that way, you can take your time and be creative in the process.  So, as Thanksgiving arrives, the Christmas season has already begun in our home. While the Christmas tree glistened with its white lights twinkling the Thanksgiving table was aglow with various squashes carved out to hold oil candles and flowers.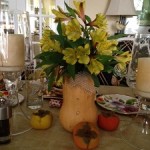 Miniature pumpkins from Pottery Barn added holiday joy to the center of the table.
On one of my many walks along the Erie Canal I gathered the most beautiful colored fallen leaves of purple, green, gold and orange.  Some of my most favorite colors.  I brought them home and put them into pages of books to dry.  Weight the books down with something and voila a month or so later you have dried preserved leaves.  I reuse them year after year.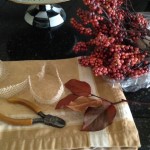 The art of napkin folding has always intrigued me.  The napkins add a special finishing touch to a festive table.  This year I used silk berries and leaves with burlap ribbon cut in half to make a fringed edge.  I folded the napkins into a cornucopia shape and placed them on the plates.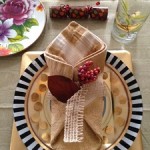 Special touches abound all around…..For me, holiday decorations are also the glasses, plates, and flatware.  These are the fine details of decorative interior design.  Each place setting usually has placecards, and a small wrapped gift.  This year I made the most wonderful pumpkin bread.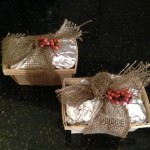 Each small loaf was put into a pint size rectangle wood berry box I purchased online from Garnish Inc.  I wrapped them with burlap ribbon and silk berries I used on the napkins.  Water infused with pomegranate seeds and sliced apples in my infusion pitcher from Crate and Barrel provided a nutritional thirst quencher and added a special touch of color.  I let the mixture cold steep overnight in the refrigerator.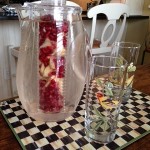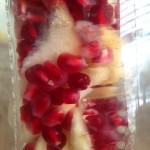 Finally the most important special touch was my ten and a half month old grand niece joining us for her first Thanksgiving.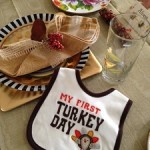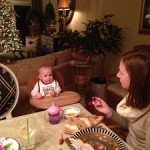 There's something magical to me about the holidays.  Whether I'm entertaining neighbors or family and friends, people who attend our parties love it, because they don't usually decorate to the extent that I do.  There's something truly magical about their joyous attitudes and sparkle.
http://blog.interiorsbymarciaphilipp.com/wp-content/uploads/2015/12/marcia-philipps-blog-logo.jpg
0
0
Marcia Philipp
http://blog.interiorsbymarciaphilipp.com/wp-content/uploads/2015/12/marcia-philipps-blog-logo.jpg
Marcia Philipp
2013-12-02 19:24:32
2013-12-02 21:41:15
Making Memories To Treasure