When my husband and I moved into our condominium six years ago, my gardening flourished.  You are restricted in what you can do to the outside when you have a Homeowners Association so my challenge began.   Each year,  I have created spaces outdoors that you can sit, read or reflect in.  One of my passions along with decorating is gardening.  I have a dear friend, Barbara, who loves to come over and "share" my outdoor spaces with me.  As we were sitting in the deck space one year,  she took a deep sigh and said, "I feel like I'm in a little slice of heaven."  Even small condominium outdoor spaces can become "rooms." 
I have what I call three separate outdoor rooms during the summer.  The first, is the deck, which has wonderful all weather wicker chairs and a high top dining table set made of woven vinyl that I sell from Lloyd/Flanders.  Potted flowers and herbs, wall decor, outdoor bakers rack, and fountains envelope the deck.  I bought an old shutter and corbels from a salvage yard to create a wall server for food and drinks when entertaining.  I had a piece of Plexiglas made to fit on top of the shutter.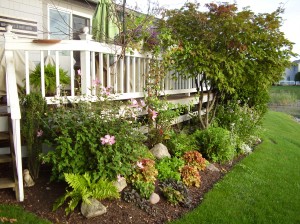 The "screen room" is what I call our second space.  With the condominum covenants you can't erect a permanent structure so, my husband  and I put up an 11′ x 11′ hexagon screen room (after getting approval of course).  What a wonderful space.  I put up grommet draperies held by thick ropes on shower rods my husband cut to fit.  Added an outdoor rug and furniture.  We love it at dusk when the mosquitoes come out.  A lot of times we'll have dinner on the deck and move inside the screen room for coffee.  My husband cleverly erected a way to get into the screen room from inside the house.  We are able to leave the living room sliding door open to get in and out.  Our two Abyssinian cats love the access to go in and out although they are more in the room than out in the summer.  Sarah Susanka, architect and author states in her book; "the not so big house," "that a screen room celebrates summer weather and the outdoors." 
Our third space is my recently installed small pond with a waterfall  in the front courtyard.  My husband calls it, "The Secret Garden." It's so very peaceful and private although there are many condo's surrounding us.  I sit in the Adirondack chair (don't you just love how the Adirondack chair symbolizes water and peacefulness in your mind.)  So many Adirondack chairs have been photographed with two facing the water.  My husband and I were in the Adirondacks in Blue Mountain and I shouted to my husband, "stop!"  I wanted to take a photograph of two wonderfully old adirondack chairs facing the lake.  The photograph on the top of this page is of my pond with one of the seven frogs that kept me company all summer. You can view more pictures of the pond and a larger picture of the screen room by clicking at the top of this page to go to my website.
I shall leave you with a quote from Paige Rense that's in a little book my friend, Claire gave me:  "Everyone has, I think, in some quiet corner of his mind, an ideal home waiting to become a reality.
Enjoy your home today!
http://blog.interiorsbymarciaphilipp.com/wp-content/uploads/2015/12/marcia-philipps-blog-logo.jpg
0
0
Marcia Philipp
http://blog.interiorsbymarciaphilipp.com/wp-content/uploads/2015/12/marcia-philipps-blog-logo.jpg
Marcia Philipp
2013-02-11 12:00:53
2013-02-11 16:01:55
Outdoor Spaces