Most people can't seem to find enough time in the day… I know I'm guilty. I've been trying to find time to write my blog and download photographs on Houzz of a new home I recently completed. I worked on so many wonderful projects last winter that continued into spring.  A personal project of mine included my husband, Rick, painting my workroom.  I decided to pick a new soft white tone.  Sherwin Williams SW9119 Dirty Martini….I promise I didn't pick it for the name although it sure could have persuaded me.  It's a soft beige/green. You can see on the photo below the old color on the left wall and the new color on the back wall where the door is. The next photo shows the newly painted walls and the room rearranged from the way it was originally.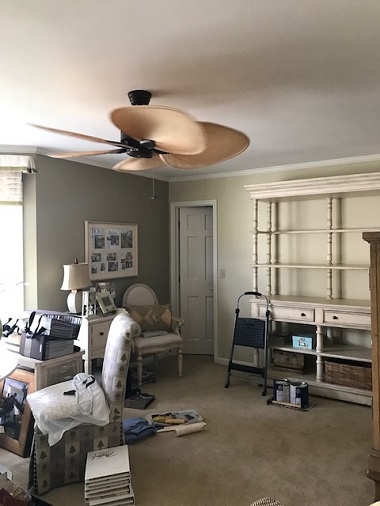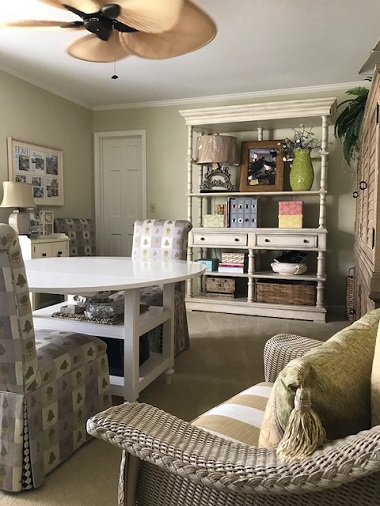 My approach to the Industrial style home labeled by my clients as the "Dream Lodge" which, coincidentally coincides with the first initials of their last names, was to celebrate the home's views and uniqueness.  Wrapped in charm and character, the home dons corrugated walls, wood ceilings, multiple paint colors in a room with contrasting trim, metal railings and so much more.  An antique kitchen table draws you in for conversation in the open space while the furniture in the family room from my upholstery company, The MT Companies, beckons you to enjoy the view, read a book, watch television or take a nap in front of the fireplace during the cold winter months. Please visit my site on Houzz.com to see the rest of the professionally taken photographs.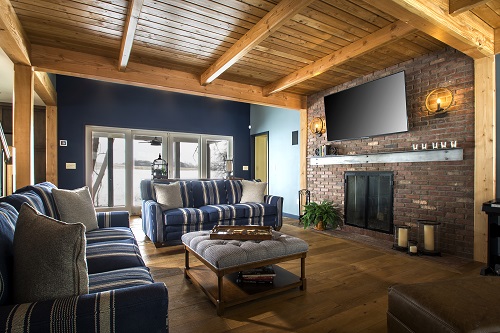 Another project I worked on was a new cottage style home in the Timberbanks development. Comfort and function were the key to this home.  My builder clients, who have been building beautiful homes for many years, decided it was time to downsize from a large home to a more manageable size home.
Windows and a door line three walls in the great room/kitchen area for wonderful views of the golf course. I angled the fireplace on the wall for interest and created a television/bookcase unit next to it. Ceilings are no less important than walls and their ceiling was no exception.  Created to add depth and dimension, the coffered ceiling shows what the builder's trimmer can do. Adding to the senses of bringing the outdoors in, the walls and inside the coffered ceiling were painted Sherwin Williams, SW7696 Toasted Pine Nut, (not yet painted on the walls in the photograph below) which is a warm rich beige/yellow.
The topic of conversation always seems to be opened up by the weather……Ok, I am a bit sick of the rain too but, it's BECAUSE of the rain, the wetlands next to us are filled with wildlife including  new born painted wood ducks that are an amazing array of colors…hence, the name painted wood duck, it's BECAUSE of the rain, I've learned to take my walks in it and I never run into anyone else except for birds, turtles and deer, it's BECAUSE of the rain we appreciate the warmth upon our face when the sun does come out and of course, it's BECAUSE of the rain my garden is a watercolor painting waiting to come alive on canvas.  What is your "it's BECAUSE of the rain" feel good thoughts?
My beloved garden pond was refurbished recently.  It's been leaking for years and needed a little TLC.  "It looks better than ever," my husband said. The frogs who have joined me this year think so too..
Sometimes stars just align. Overwhelmed and in the midst of work, Remi's recovery and Chairing the Greater Manlius Chamber of Commerce's 2017 Spring Dinner Auction, my friend, Patty stopped by with lunch for Rick and I on a Saturday morning with a picnic basket full of warm fresh bread she had made, homemade minestrone soup – best I've ever tasted even with the substitution of Turkey sausage (recipe below), the trimmings for the soup and yummy brownies. Enter aligning stars….I met Patty over 20 years ago when she walked into the design firm I was working at and needed decorating. We have cultivated a special friendship and share the same interests in gardening, cooking and so much more.
I leave you, as always, with pictures of Remi and Sami…..Abyssinians are known to have bad teeth and Remi was no exception.  In April, he had 16 of his 20 or so teeth pulled.  It was very painful I am sure and my heart ached for him.  We "lost" our boy for about six weeks.  He became very unsocial which, was the complete opposite of his personality.  Feeling so much better now that his infected teeth are gone, we've got our Remi boy back again. For those of you that know Remi, you know he loved to suck on his tail for comfort. Now not having any teeth to hang onto it in his mouth, he no longer sucks it.  He seems alright with it but every so often he grabs for his tail but then let's it go when he realizes he can't hang onto it. I loved it when he did it but, I suspect I will get over it as well.  I'm just glad to have my boy back again.
Happy Spring
Marcia
http://blog.interiorsbymarciaphilipp.com/wp-content/uploads/2015/12/marcia-philipps-blog-logo.jpg
0
0
Marcia Philipp
http://blog.interiorsbymarciaphilipp.com/wp-content/uploads/2015/12/marcia-philipps-blog-logo.jpg
Marcia Philipp
2017-06-16 11:54:35
2017-06-19 09:49:34
Finding Time and More….