A glimpse into Benjamin Moore's refreshing colors will inspire you to repaint.  Their fresh pales awaken the senses.  The light muted tones of grays, lavenders, blues, yellows and greens invigorate us all.  Benjamin Moore's 2015 color of the year is called Guilford Green which, has a hint of mint just in time to be inspired by the summer garden.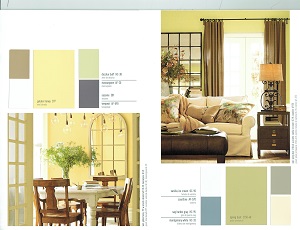 With all the rain this summer, my small gardens live large with an abundance of flowers dancing in the breeze.  Light colors of yellows, purples, whites, and a collage of greens intermix with  deeper tones while the grass and sky  seems to become their scenic backdrop.  
 Not only do textures add interest to the garden, but in furniture and on the walls as well.  Making a grand comeback are natural wallpapers such as: natural palms, bamboo, grasses and paper weaves.
Recently remodeled, our master bath, has a light colored textured paper weave by Thibaut Wallpaper. In contrast to that, I recently installed deep colored Java Grass on the walls in my client's lower level media/bar room above the judges paneling.  The Java Grass boasts deep rich colors of blues, grays and browns adding a rich color and texture to the contrast of the white trim, Benjamin Moore's Acadia White OC-38. Natural wallpapers not only look great on the walls but also installed into the sections of  coffered ceilings or on the walls behind a bookcase.
Textured furniture, when mixed in with non-textured not only adds interest but invites the senses to be alive.  Lexington Home Brands, Ivory Key, is finished in a crisp white coloration with subtle parchment highlights.  Drawer fronts and a headboard of woven raffia create a natural look and also create a wonderful room for a backdrop in a bold color such as Benjamin Moore's, Carter Plum CW-355 or a beautiful rich beige tone such as Pale Oak OC-70. 
If bold color is not to your liking, try an elegant airy gentle white color from Benjamin Moore such as powder sand OC-113.  Lexington Industries new line, Oyster Bay, captures the style and feel of the new whites in a light oyster shell coloration.  Lexington states in their catalog that, "Today's casual transitional styling blends lighter wood tones, natural textures and relaxed shades of ivory, taupe and gray, with designs that embody a feeling of laid-back sophistication."
Whether your desire is lighter walls with rich toned furniture, a more monochromatic feel or darker walls with a lighter natural feel in furniture, the combinations abound.  This summer and fall, get inspired by the backdrop of the earth and sky mixed with the colors of a beautiful garden with textures from grasses, ferns and plants and colors naturally created from the earth, sky and flowers.
A blog just wouldn't be the same without a picture of one of my abyssinians…..My star photogenic Aby, Sami, recently posed for me.   In the heat of a 90 degree day, she was looking for relief on a cool glass top in our summer screen room……Loving my new camera….(visit my blog prior to this)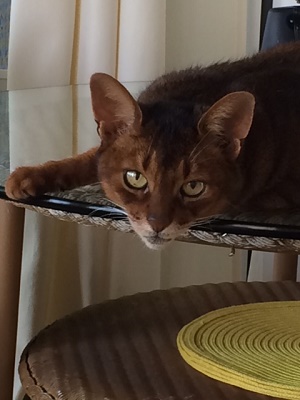 http://blog.interiorsbymarciaphilipp.com/wp-content/uploads/2015/12/marcia-philipps-blog-logo.jpg
0
0
Marcia Philipp
http://blog.interiorsbymarciaphilipp.com/wp-content/uploads/2015/12/marcia-philipps-blog-logo.jpg
Marcia Philipp
2015-08-24 12:22:22
2015-09-13 21:55:56
New and Inspired Fresh Summer Garden Colors