Making the drive to Furniture and Accessory Market in High Point, NC is always an exciting time.  I'm very lucky as my husband, Rick, makes the journey with me.  Stopping over in Virginia to see our dear friend Lenora, we witnessed the beauty of the fall leaves turning. With paved walks gracing the entire development where Lenora lives, Rick and I took an early morning walk along the reservoir as the cool fall air danced upon our face. Enjoying a beautiful evening dining at The Boathouse at Sunday Park Restaurant, I captured the most beautiful sunset over the reservoir.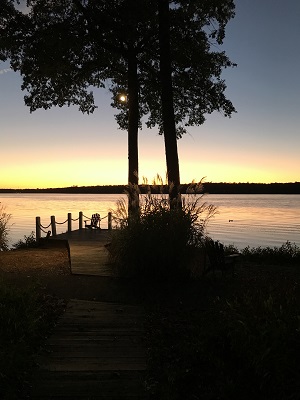 Upon arriving at the Furniture market later the next day, my senses were on overload with new and creative ideas overflowing. Having traveled there for the past 25 years, you get into an exciting but hectic routine. Walking through the doors of the IHFC Building (International Home Furnishings Center) one building out of hundred's, not only enlightens your senses but, also renews my excitement of why I do what I do for a living. On the main floor called InterHall, some of the showrooms stage their entrances while others entice you in by the beauty created by lighting, props and their products.
The Michael Lamb Interiors & Antiques showroom located in the Somerset Bay/Modern History Furniture building is full of glorious antiques. The owner's dog, George, had apparently had a full day at market and did what we all wish we could do!
So trending now, the hues of blue are artfully displayed in the MT Companies showroom.  I've represented this upholstery line for over 20 years and their attention to detail, craftsmanship and representation are impeccable. From unique ottomans to trim details on the sofas and chairs there's so much you can do to make each piece uniquely yours.
I almost thought I would write a blog on, "The dogs of Market."  Charlie, a Labradoodle and a star at modeling for a photo shoot, poses upon command on a super comfy chair in the MT showroom.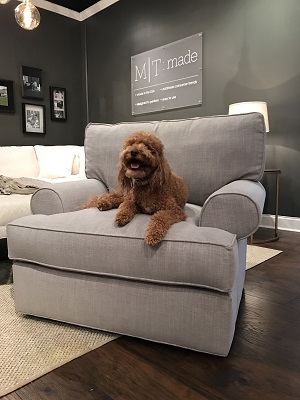 Located in Market Square, a wonderful complex listed on the National Historic Places was formally a manufacturing complex and has since been transformed into showrooms; some with the original beautiful planked floors. One of the showrooms, Thibaut Wallcoverings and Fine Furnishings does an incredible job with "staging." Grass wallpaper in a stripe is displayed in this room below. The mirror, top of the end tables and the doors of the console are all embellished with a wallpaper inset.
Still on an upward trend is the casual but classic modern.  It captivates a clean, elegant minimalistic styling.  So simple but so softly elegant as displayed in the Lexington Home Brands showroom located in a wonderful building 15 minutes from downtown.
Trends I saw a lot of:  Mixing metals, such as dark bronze with nickel, brass with bronze, polished and brushed nickel; Brass is making a huge comeback; although white walls have their place, seems the jewel tones are very strong.  I saw a lot of white furniture and decor mixed with vibrant hues of orange, indigo and blue; Velvet fabrics making a comeback on sofas; Wallpaper in the living spaces – Geometric patterns are very big in wallpaper and fabrics; Still going strong is the Industrial Style – mixing of wood, metal and stone.  A sort of NYC loft feel with an inviting edge.
The definition of Trend is a general direction in which something is developing or changing.  You may feel you like the modern design and appreciate it but that doesn't necessarily mean you can live with it.  If you like something from "the trend" such as a large geometric print, you can add that to your existing style as long as the colors flow well and the new fabric compliments the patterns in the existing room. Following the trends is not all that matters, it's feeling comfortable with your style. Mixing your style with a trend edge creates a warm personal style and keeps you feeling fresh and new…I love my yellow floral chintz chair in my living room from the MT Companies with a velvet leopard print pillow on it.  Remi does too…
http://blog.interiorsbymarciaphilipp.com/wp-content/uploads/2015/12/marcia-philipps-blog-logo.jpg
0
0
Marcia Philipp
http://blog.interiorsbymarciaphilipp.com/wp-content/uploads/2015/12/marcia-philipps-blog-logo.jpg
Marcia Philipp
2017-11-11 15:09:44
2017-11-11 21:21:36
High Point Furniture Market Design Trends and More