As I sit here writing this, I can hear the rain as it hits upon my skylights.  I think what better way to awaken the garden than a spring rain.  To further awaken it,  I took the winter shield off my pond to reveal mini dancing daffodils, Grecian Windflower bulbs sprouting and Chequered Lillie bulbs emerging all of which I had planted last fall.  There's something to be said about a garden in the spring that's full of sprouting bulbs and perennials.  For me, the excitement of watching the perennials and bulbs emerge makes the expectation of the arrival of spring even more exciting.
Last fall, I moved an endless summer hydrangea from the side of the house to the front island bed.  It wasn't getting enough sun to blossom so moving it will hopefully give it new life. I journeyed to Greenscapes in Jamesville, to find a rock suitable to add as a backdrop against the dominating evergreen tree behind the newly planted hydrangea.   I found a 630 LB rock shimmering in hues of greens and yellows from the St. Lawrence.  It was delivered the following week and became the much needed element in the island.  It became center stage against the existing anemones, white and purple butterfly bushes, black eyed susans and a white cone hydrangea shrub.
"You're invited to tour a secret garden" was the invite to view my garden from a local garden club.   They are coming mid-June for their breakfast meeting.  I will be offering scrumptious overnight pecan buns (so easy to make!), homemade best ever banana bread, the best gluten free muffins I've ever tasted along with Barefoot Contessa's Banana Crunch Muffins, that are a bestseller at her restaurant, as well as fresh fruit, homemade granola and yogurt.  I will be giving a speech and demonstration on, "Entertaining?"  Decorate your table with flowers."  They will then do a walking tour of my front "secret garden" and back garden along with viewing my two adjoining neighbors' gardens who I invited to participate as they both create beautiful gardens as well.
For the second year in a row, I chaired the Greater Manlius Chamber of Commerce's Spring Dinner Silent and Live Auction which, was held on April 14th, at Traditions at the Links.  The auction, is the Chamber's biggest event benefiting the Greater Manlius Chamber of Commerce, FM Community Outreach in Manlius and Heaven's Pantry in Minoa.  There were over 200 people that attended the social event.  As the president of the Chamber stated the other night, I actually created a production. I guess I never thought of it that way but there was live entertainment that filled the air. Brick House by the Commodores came on as the live auction opened up and the first auction item came up for bid, The Lion Sleeps Tonight played as a kayak was carried out by a Syracuse Crunch member. Megan Coleman from a local newscast modeled a bracelet being auctioned off and much more!  I was glad when the event was over.  It was a lot of work and worries but, in the long run, it was a fun evening and very successful! I couldn't have done it without my incredible committee.
On one of my many walks, I happened to look back over at our condo and felt blessed to have captured such a beautiful watercolor picture.  Almost as if someone had painted it. I have asked my dear friend, Lenora, who's a very talented artist, to paint the picture for my husband and me.   A few days later, I was working at my desk and noticed a storm quickly approaching.  I went out on the deck to capture the approaching storm clouds.  The lake, spring fed from Green Lakes, was showing it's true colors!  As I stepped back inside, there was a flash of light and a tremendous crash.  I thought for sure the condo had been hit. The cats disappeared under the bed for hours. The next day as I ventured out on my walk down the path next to our condo, I saw where the lighting had struck.  There was a large tree with its bark completely stripped off from the top down and the pieces were scattered everywhere.
I  have posted the much anticipated professional photographs that were taken at my client's beautiful home I recently completed decorating. I entitled it, "New York Charm" as so much thought and detail went into the process of creating their charming home.  Please visit http://www.houzz.com/projects/1729115//new-york-charm to view the rest of the amazing photographs of their home.
I'm working on a marvelous "Industrial theme Guest Cottage" in Skaneateles that's in the process of being built.  We've selected wide planked ruff looking hardwood floors, leathered granite in the kitchen and corrugated metal on the walls.  There are no cabinets above in the kitchen. Only shelves held up by metal rods.   I am also working on a glorious new home being built in Fayetteville with a Cape Cod feel inside.  Hues of ocean salt air and shimmering shells fill each space as the rooms unfold.  A soapstone countertop on the island in the kitchen, bead board cathedral ceiling in the kitchen eating area and beautiful marble and limestone tiles in the bathroom.
I will keep you up to date on the process of these beautiful homes.  I feel so lucky to do what I do.  So many great clients/friends that come my way with so many diversified styles to keep my creative flow going.
HAPPY SPRING!
Marcia
http://blog.interiorsbymarciaphilipp.com/wp-content/uploads/2015/12/marcia-philipps-blog-logo.jpg
0
0
Marcia Philipp
http://blog.interiorsbymarciaphilipp.com/wp-content/uploads/2015/12/marcia-philipps-blog-logo.jpg
Marcia Philipp
2016-05-22 22:01:32
2016-07-28 10:28:26
New York Charm and More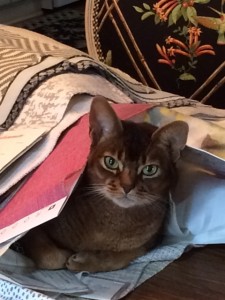 Remi, my Abyssinian cat, seems quite content buried under fabrics being shown to me by one of my fabric reps.
I hope you had a wonderful holiday season.  With all the disturbing events happening close to home and overseas, I linger longer than normal looking at the small, individual efforts that people make to embrace the season.  These efforts seem to touch me the most….The single lit tree outside, the Christmas tree peeking out through a front window and candles reflecting in the windows for us all to see.  I look in those windows and imagine families gathered around the dinner table laughing and sharing stories and the little ones anticipation of morning to come.  Excitement and peacefulness fills the air while all the while shutting out the world around for that brief moment of time.
Visiting from Massachusetts, my grandniece and Godchild, Kaleigh, spent the morning with me. We had fun making ornaments for Mommy and Mimi (Grandma).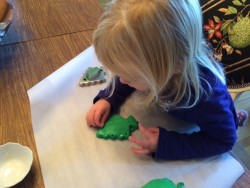 As winter settles in, I dream of the afternoons my husband, Rick and I played golf.  Enjoying the game of golf and becoming more proficient at it, I found myself taking an afternoon and playing nine holes by myself.  To me it's not about the game but about a chance to walk and get exercise, to enjoy the fresh air and de-stress as I'm focused on the game and surroundings.  Lucky were we when, my husband and I donned in shorts, played golf at The Links at Erie Village on December 24th.  That was a memorable day.
We were able to get away the first of December to celebrate my sister's birthday.  My sister, her husband, Rick and I flew into Miami and stayed at the beautiful Thompson Miami Beach Hotel where we sat on the beach soaking in the sun's rays.  As Rick and I strolled down the beach, we happened upon the Miami Beach Art Fair or commonly known as the" Art Basel Week" that was taking place.  There were amazing exhibits.  One exhibit, showcased wooden crates placed sporadically around the beach.  Upon opening them, one could select a free art poster showcasing the various artist's work.  Continuing on our walk, there was an actual rollerskating platform that had been erected on the beach.  With skate along music playing, one only had to put on rented skates and skate along with the music and rolling waves.  Being that it was a year ago I had broken my toe so badly, I opted out on venturing into the arena.
The next day, the four of us jumped into the car and drove the Overseas Highway sometimes called, "The Highway that Goes to Sea," to Key West.  As we came upon the island, I felt an urge to sing Jimmy Buffett's song, Margaritaville.  Noting this to the other three in the car, don't you know shortly thereafter, as fate would have it,  the song came on the radio.  As the four of us sang along; I think they were singing…I know I was… we had now entered into another world.  We stayed off island at the Sunset Key Cottages.  A seven minute taxi boat ride from Key West.  You felt as if you were in paradise.  Life was good as we had our own cottage on the water complete with a hammock and a beautiful view of Key West in sight.  Every morning I walked the brick lined streets passing homes that reminded me more of the cape than Florida.  Being there during the holiday season heightened the senses to overload.  Awaiting us on the front porch every morning was a basket filled with fresh fruit and homemade muffins.  Can I retire here!!??
Below are a few pictures from the cottage we stayed in.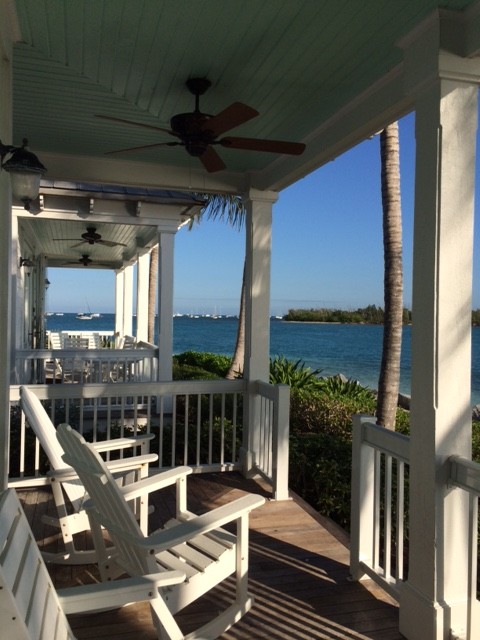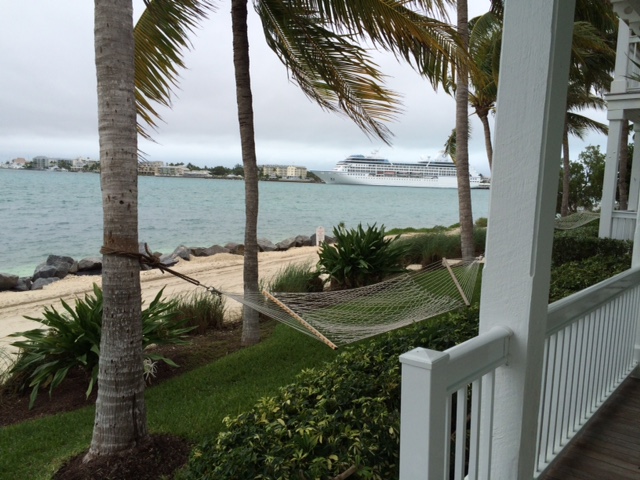 A few of the homes on the island where we stayed.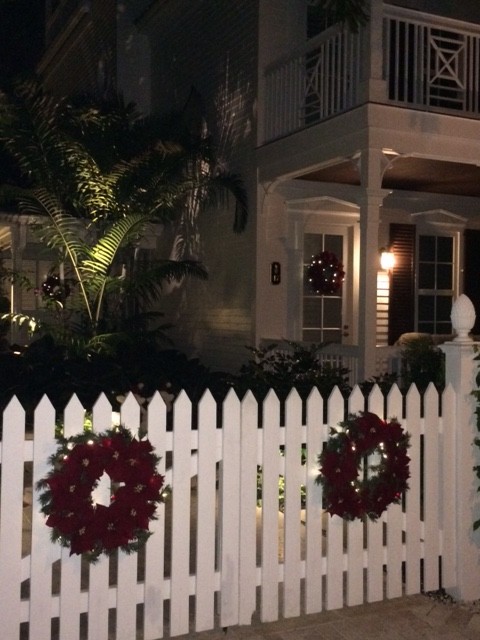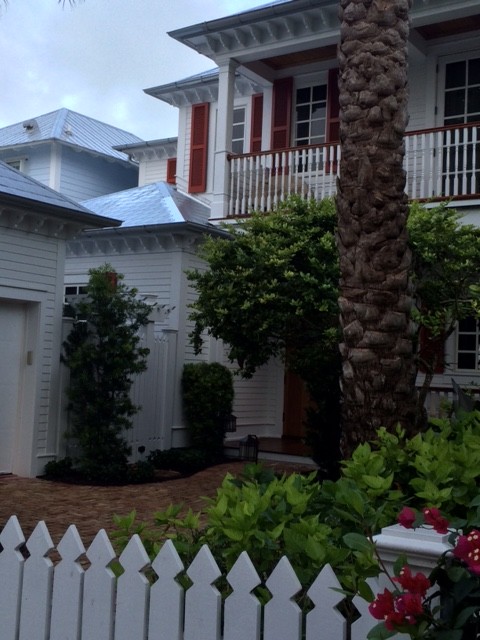 The beautiful lobby at the Sunset Key Hotel.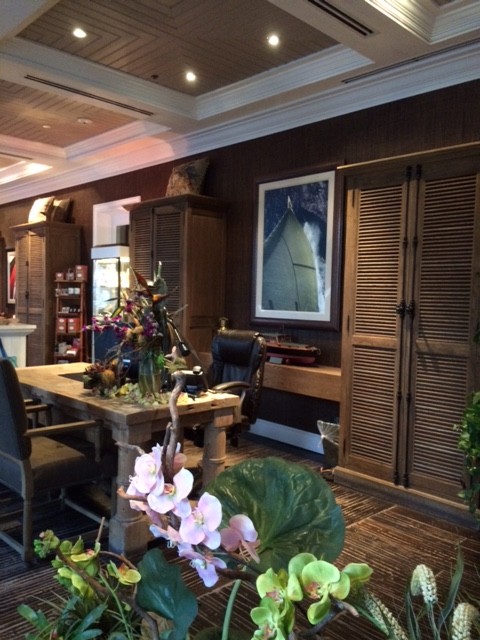 So different was the Island itself.  With so many bars, restaurants, stores and wild chickens and roosters roaming around.  We, of course, had to take a tour of the Ernest Hemingway House Museum complete with 57 polydactyl (six-toed) cats.  About half of the cats at the museum have the physical polydactyl trait but they all carry the polydactyl gene in their DNA.  Ernest Hemingway was given a white six-toed cat by a ship's captain and some of the cats who live on the grounds are descendants of that original cat.  We also visited the Butterfly and Nature Conservatory which I loved.  I told my husband when and IF I ever retire, that would be something I could do.  As I meandered around the conservatory, three butterflies decided to hitch a ride on my legs.  After seeing the butterflies on me, one of the employees came up to me and said, "they don't land on people very often but, when they do, you know the person has a gentle and soft spirit."
One of the polydactyl cats poses on a rock while the tour guide wraps up his speech.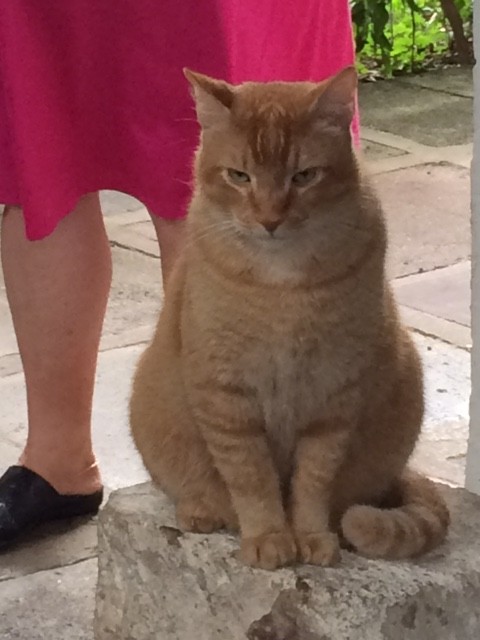 Butterflies clinging to my legs at the Butterfly and Nature Conservatory.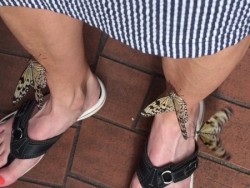 Very soon my photographer, Jonathan Beach, will be photographing a few of my client's homes for me that were recently completed. Keep your eye on my site on www.houzz.com to view the photos.  One of the beautiful homes I completed recently will be photographed in February as my clients were recently married and are off on their honeymoon.  My husband and I were in attendance at their wonderful wedding.  We wish them much happiness in the years to come.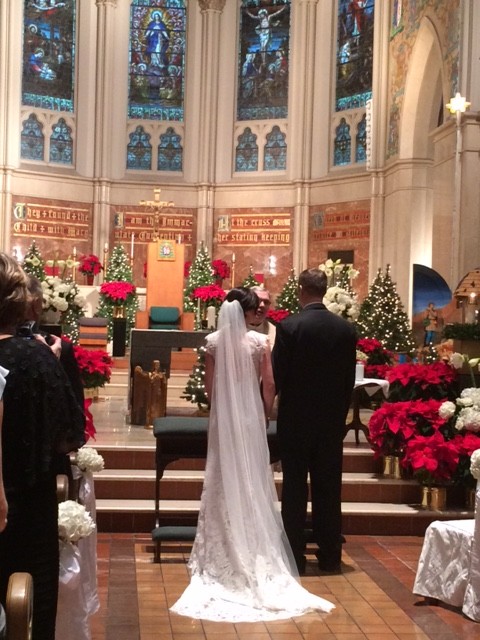 I love David Bowie's wife, Iman's Instagram she posted after David's death, "Sometimes you will never know the true value of a moment until it becomes a memory."  Enjoy every moment!!!
Wishing you a Wonderful and Glorious 2016!
Marcia
http://blog.interiorsbymarciaphilipp.com/wp-content/uploads/2015/12/marcia-philipps-blog-logo.jpg
0
0
Marcia Philipp
http://blog.interiorsbymarciaphilipp.com/wp-content/uploads/2015/12/marcia-philipps-blog-logo.jpg
Marcia Philipp
2016-01-15 09:53:29
2016-02-09 20:44:10
Sharing Bits and Pieces
A glimpse into Benjamin Moore's refreshing colors will inspire you to repaint.  Their fresh pales awaken the senses.  The light muted tones of grays, lavenders, blues, yellows and greens invigorate us all.  Benjamin Moore's 2015 color of the year is called Guilford Green which, has a hint of mint just in time to be inspired by the summer garden.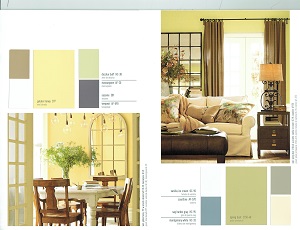 With all the rain this summer, my small gardens live large with an abundance of flowers dancing in the breeze.  Light colors of yellows, purples, whites, and a collage of greens intermix with  deeper tones while the grass and sky  seems to become their scenic backdrop.  
 Not only do textures add interest to the garden, but in furniture and on the walls as well.  Making a grand comeback are natural wallpapers such as: natural palms, bamboo, grasses and paper weaves.
Recently remodeled, our master bath, has a light colored textured paper weave by Thibaut Wallpaper. In contrast to that, I recently installed deep colored Java Grass on the walls in my client's lower level media/bar room above the judges paneling.  The Java Grass boasts deep rich colors of blues, grays and browns adding a rich color and texture to the contrast of the white trim, Benjamin Moore's Acadia White OC-38. Natural wallpapers not only look great on the walls but also installed into the sections of  coffered ceilings or on the walls behind a bookcase.
Textured furniture, when mixed in with non-textured not only adds interest but invites the senses to be alive.  Lexington Home Brands, Ivory Key, is finished in a crisp white coloration with subtle parchment highlights.  Drawer fronts and a headboard of woven raffia create a natural look and also create a wonderful room for a backdrop in a bold color such as Benjamin Moore's, Carter Plum CW-355 or a beautiful rich beige tone such as Pale Oak OC-70. 
If bold color is not to your liking, try an elegant airy gentle white color from Benjamin Moore such as powder sand OC-113.  Lexington Industries new line, Oyster Bay, captures the style and feel of the new whites in a light oyster shell coloration.  Lexington states in their catalog that, "Today's casual transitional styling blends lighter wood tones, natural textures and relaxed shades of ivory, taupe and gray, with designs that embody a feeling of laid-back sophistication."
Whether your desire is lighter walls with rich toned furniture, a more monochromatic feel or darker walls with a lighter natural feel in furniture, the combinations abound.  This summer and fall, get inspired by the backdrop of the earth and sky mixed with the colors of a beautiful garden with textures from grasses, ferns and plants and colors naturally created from the earth, sky and flowers.
A blog just wouldn't be the same without a picture of one of my abyssinians…..My star photogenic Aby, Sami, recently posed for me.   In the heat of a 90 degree day, she was looking for relief on a cool glass top in our summer screen room……Loving my new camera….(visit my blog prior to this)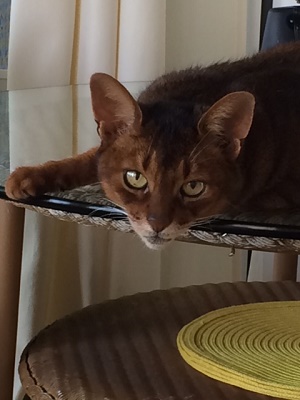 http://blog.interiorsbymarciaphilipp.com/wp-content/uploads/2015/12/marcia-philipps-blog-logo.jpg
0
0
Marcia Philipp
http://blog.interiorsbymarciaphilipp.com/wp-content/uploads/2015/12/marcia-philipps-blog-logo.jpg
Marcia Philipp
2015-08-24 12:22:22
2015-09-13 21:55:56
New and Inspired Fresh Summer Garden Colors