A glimpse into Benjamin Moore's refreshing colors will inspire you to repaint.  Their fresh pales awaken the senses.  The light muted tones of grays, lavenders, blues, yellows and greens invigorate us all.  Benjamin Moore's 2015 color of the year is called Guilford Green which, has a hint of mint just in time to be inspired by the summer garden.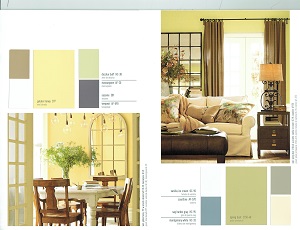 With all the rain this summer, my small gardens live large with an abundance of flowers dancing in the breeze.  Light colors of yellows, purples, whites, and a collage of greens intermix with  deeper tones while the grass and sky  seems to become their scenic backdrop.  
 Not only do textures add interest to the garden, but in furniture and on the walls as well.  Making a grand comeback are natural wallpapers such as: natural palms, bamboo, grasses and paper weaves.
Recently remodeled, our master bath, has a light colored textured paper weave by Thibaut Wallpaper. In contrast to that, I recently installed deep colored Java Grass on the walls in my client's lower level media/bar room above the judges paneling.  The Java Grass boasts deep rich colors of blues, grays and browns adding a rich color and texture to the contrast of the white trim, Benjamin Moore's Acadia White OC-38. Natural wallpapers not only look great on the walls but also installed into the sections of  coffered ceilings or on the walls behind a bookcase.
Textured furniture, when mixed in with non-textured not only adds interest but invites the senses to be alive.  Lexington Home Brands, Ivory Key, is finished in a crisp white coloration with subtle parchment highlights.  Drawer fronts and a headboard of woven raffia create a natural look and also create a wonderful room for a backdrop in a bold color such as Benjamin Moore's, Carter Plum CW-355 or a beautiful rich beige tone such as Pale Oak OC-70. 
If bold color is not to your liking, try an elegant airy gentle white color from Benjamin Moore such as powder sand OC-113.  Lexington Industries new line, Oyster Bay, captures the style and feel of the new whites in a light oyster shell coloration.  Lexington states in their catalog that, "Today's casual transitional styling blends lighter wood tones, natural textures and relaxed shades of ivory, taupe and gray, with designs that embody a feeling of laid-back sophistication."
Whether your desire is lighter walls with rich toned furniture, a more monochromatic feel or darker walls with a lighter natural feel in furniture, the combinations abound.  This summer and fall, get inspired by the backdrop of the earth and sky mixed with the colors of a beautiful garden with textures from grasses, ferns and plants and colors naturally created from the earth, sky and flowers.
A blog just wouldn't be the same without a picture of one of my abyssinians…..My star photogenic Aby, Sami, recently posed for me.   In the heat of a 90 degree day, she was looking for relief on a cool glass top in our summer screen room……Loving my new camera….(visit my blog prior to this)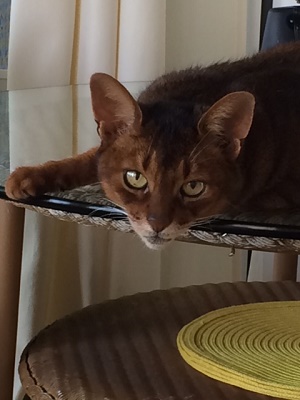 http://blog.interiorsbymarciaphilipp.com/wp-content/uploads/2015/12/marcia-philipps-blog-logo.jpg
0
0
Marcia Philipp
http://blog.interiorsbymarciaphilipp.com/wp-content/uploads/2015/12/marcia-philipps-blog-logo.jpg
Marcia Philipp
2015-08-24 12:22:22
2015-09-13 21:55:56
New and Inspired Fresh Summer Garden Colors
I've come to realize that no matter how long you've lived where there's snow, you never quite get used to it.  Every time you spoke with someone this winter, the topic of conversation was how cold and bad the winter was…..But now, we're gearing up for everyone to hopefully start complaining about how hot and humid it is!!!
I decided it was time to retire my beloved Nikon semi-automatic camera that I've had for many years.   So, in the fall, I purchased a new digital camera.  One thing I wanted to do was to hike into Green Lakes on a sunny, (good luck with that one) snowy day and take a picture of the snow against the forest of tree trunks for my dear friend, Lenora to paint.  Then in December, as fate would have it, I broke my toe really bad.  I missed a couple of steps into our garage while racing around getting ready to go to New York City for a little Christmas sight seeing trip.  Laid up with an open toed shoe for months, I spent some time photographing the birds that visited my feeder daily.  Out of this arose my New Year's Resolution…..Mindfulness.  I do things slower now and realize that things CAN wait.
Over the winter, I worked on a lot of exciting decorating projects.  One project was remodeling my master bath and staircase. Another one was for a client which, should be completed by mid to late summer.  I hope to get them both professionally photographed and into my profile at Houzz.com along with other projects I've been working on.  My master bath project included heated floors, new vanities, tile, wallpaper and a walk-in shower with frameless doors. The staircase that leads to my office was originally wall to wall carpet.  I had the carpet ripped up and new hardwood floors installed.  The finishing touch, a beautiful wall to wall carpet cut and bound into a runner.
In January, I was voted by the Houzz.com  professional staff as "Best of Houzz 2015 for Service."  If you visit their website and view my profile, you will see the emblem.
I had a "moment" of sheer excitement in January as well, when I received notification from the publisher of a National Kitchen Magazine called, The Art of Kitchen & Bath Design/Kitchens by Professional Designers, that a kitchen remodeling project I had submitted, was accepted and would be published in their March edition.  I was awaiting a proof when I received an email from the publisher notifying me that "After 25 years of publication, the internet information age and its rapid expansion, has had a major effect on all print media retail sales making it prohibitive to continue printing."  My "moment" of sheer excitement flashed before my eyes…..I had been featured in the magazine in 2009 when a kitchen designer submitted photographs of a kitchen he designed and I had assisted the client with the kitchen selections and I had also created the custom window treatments.  I'd been meaning to submit photographs since then and I finally did……and so it goes.  I will keep trying with other magazines and will keep you posted.
My husband and I, along with my sister and her husband, were able to get away for 10 days to Florida where we had 80 degrees and sunshine.  After wearing an open toed shoe for three months,  I could finally wear sneakers on my foot with the broken toe.  I felt like a new woman but I also felt like I had to teach myself how to walk again!  The doctor's orders were to not walk without my sneakers on the sand.  There's nothing like the feel of that warm sand massaging your bare feet.  Not wanting to regress,  I begrudgingly heeded the doctor's orders.
Once again, I'm realizing that the winters don't last forever although when you're in the midst of it it certainly seems like it does.  I am out enjoying my stress relieving walks again and taking photos with my new camera.  The snow scene will have to wait until next year.  Soon we will all be out enjoying the warmer weather.  I will change the timers on my lights, clean the fireplace out and my husband, Rick and I will put up the much anticipated screen room for the cats and us…but mostly for the cats who will then realize as well that winters don't last forever……
http://blog.interiorsbymarciaphilipp.com/wp-content/uploads/2015/12/marcia-philipps-blog-logo.jpg
0
0
Marcia Philipp
http://blog.interiorsbymarciaphilipp.com/wp-content/uploads/2015/12/marcia-philipps-blog-logo.jpg
Marcia Philipp
2015-04-04 16:40:28
2015-04-06 19:38:48
"I'VE COME TO REALIZE..."
I love any excuse to entertain and my husband's 60th birthday was no exception.   I planned a full day of celebration for Rick, who hates surprises, without ever spilling the beans.  Hard to do as I always love sharing my excitement with him.
As I gathered my thoughts for a theme.  Rick's love for golf made my choice an easy one!  I planned a surprise golf outing with Rick's college buddies.  Checking his phone contacts when he wasn't looking, I found all their emails and phone numbers.  The fun began……..
I called upon my "old faithful's" and some new ones to add to my creativity.  I started with an idea of a goldfish in a glass vase with a golf ball in the bottom and ended up with the most unique and creative fish tank which included a miniature golf cart, 18th hole flag, imaginary wind blowing a tree, fish, sand trap and a water hazard.  Stopping into a new fish store that opened up called Fish FINatics, I had the pleasure of speaking with one of the owners, Tom O'Conner.  He was intriqued with my idea and said, "let me think on it."  You could see his creative wheels turning.  Two months later,  Voila!!  I had the most unique fish tank to use as my centerpiece on the buffet table.  There was even a live river lobster in the tank.  At one point, he crawled into the golf cart to check it out.  By the time I grabbed my camera, he had moved on to inspect the wind blown artificial tree.
As I've mentioned before, I love meeting with Nanette Haynor at Whistlestop Florist.  The final outcome is always more than expected.  I gave her an antique bread baker which she filled with wheat grass.  I made flags and added one of the adorable "flower" golf balls she made me.  Along with the antique bread baker, Nanette grew wheat grass in my clay flower pot containers.  Placing them around added whimsy to the occasion.  The amazing flower arrangement she made for the back deck table filled with sunflowers, mums and round accents played upon the roundness of the golf ball.
The fact that my husband's party was a surprise obviously made it difficult to do any decorating to the house in advance.  So, when we left in the early morning to go play golf, so he thought, he was so surprised see his friend, Len, pull into the parking lot.  Not dawning on him yet he said, "what the heck is Len doing here?"  As the rest of his friends pulled in I looked at him and said, "surprise!" I left him to play 18 holes and drove home to begin my transformation of the house.
I ordered personalized golf tees that said, Ricks 60th birthday and placed them in bags with shredded green paper for the party favors.  Gathered them into a tray for friends to grab a bag or two as they left.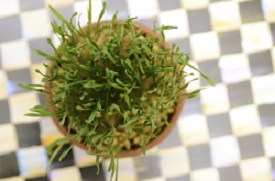 Thinking the surprise was over when his friend, Len, dropped him off back at the house, he came in with a big smile on his face until he saw the transformation.  "What's going on, he said, why is the dining room chair over here?"  My turn….With a big smile on MY face I said, "surprise again!"  "Dinner here tonight with all your friends to celebrate."  I love to cook as you know from my previous blogs but, since it was a surprise,  I enlisted Karen's Catering who arrived with fresh roasted turkey and pork for sandwiches along with wonderful salads.
For dessert the wonderful to look at and taste was made by Connie Decker. I added another "flower" golf ball and a flag to the top of the cake.   I also offered powdered sugar donut holes in a bucket.
Couldn't have asked for a more beautiful day.  The sun was out all day and there was a gentle breeze blowing.  What better way to spend a beautiful summer day than with good friends laughing and sharing stories.  I can't forget to thank Lydia from Johnson Camera for taking these beautiful pictures.  Nothing like professional photographs to bring the party back to life!
http://blog.interiorsbymarciaphilipp.com/wp-content/uploads/2015/12/marcia-philipps-blog-logo.jpg
0
0
Marcia Philipp
http://blog.interiorsbymarciaphilipp.com/wp-content/uploads/2015/12/marcia-philipps-blog-logo.jpg
Marcia Philipp
2014-10-23 10:35:37
2014-10-29 07:39:55
A Chance for Celebration